Culture Night / Oíche Chultúir will return for its sixteenth edition on Friday 17 September 2021 and Music Generation programmes around the country are proud to be part of this annual, all-island public celebration.


As in previous years, many Music Generation partnerships will be at the centre of the action. Read on to learn about just some of the exciting events taking place and find out what's on offer for you to enjoy …
Music Generation Cork City
From an open trad seisúin to (not one but) two film screenings, Music Generation Cork City have an action-packed line-up for Culture Night 2021. Here's what's happening in Cork City: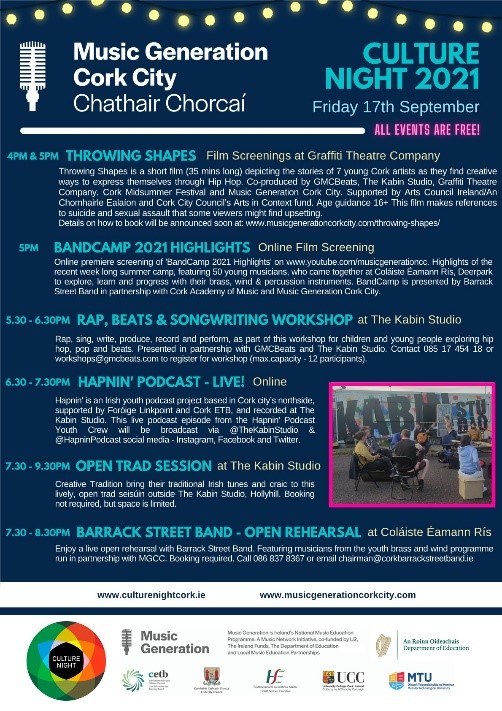 Music Generation Dún Laoghaire-Rathdown (dlr) & Music Generation South Dublin
This Culture Night, Music Generation dlr and Music Generation South Dublin, in conjunction with Alternative Entertainments, present the launch of the SubSounds Summer Camp 2021 EP.


Led by young people, and supported by professional mentors and producers, a collection of new songs was composed and arranged as part of this year's SubSounds summer camp. The achievements of these young musicians in a short space of time, throughout the pandemic and while in part delivered online, is due to the programme's strong focus on process and social engagement through music.


Their EP which launches at 2pm on Friday, 17 September 2021, on Music Generation's YouTube channel captures the success of the SubSounds programme and its participants following intensive work, creativity, and collaboration. Subscribe and set a reminder now because this is not to be missed!


Music Generation Kildare
Whether you plan on staying in or going out, Music Generation Kildare are excited to bring you:


'Distant Vibrations' Podcast Album: a podcast and original album of music produced by Kildare's Digital Hub cohort from earlier in the year. Young musicians of the programme chart their experiences of working together remotely in lockdown to explore Digital Audio Workstations and create an album of music. Tune into this over on the Music Generation Kildare Facebook page on the evening at 7pm.


Come and Play: Music Generation Kildare is inviting children and young people to The Hive Youth Hub in Kildare town (from 6pm –8pm) to meet members of their musician educator team and to try out a broad range of musical instruments. This experience could very well be your starting point on the wonderful journey of discovery and expression that is learning a musical instrument.
Music Generation Laois
If you're hitting up Culture Night in Laois, then jump on the bandwagon as Music Generation Laois presents performances aboard The Bandwagon for Culture Night 2021 featuring Scottish duo Catriona McKay (harp) and Chris Stout (fiddle).


The Bandwagon is a mobile performance unit developed by Laois School of Music, that debuted at Electric Picnic in 2019.


This in-person event kicks off at Fitzmaurice Place, Portlaoise town at 6pm, so bring your warm clothes and (hopefully you won't need your) raincoats and enjoy an open air live music experience.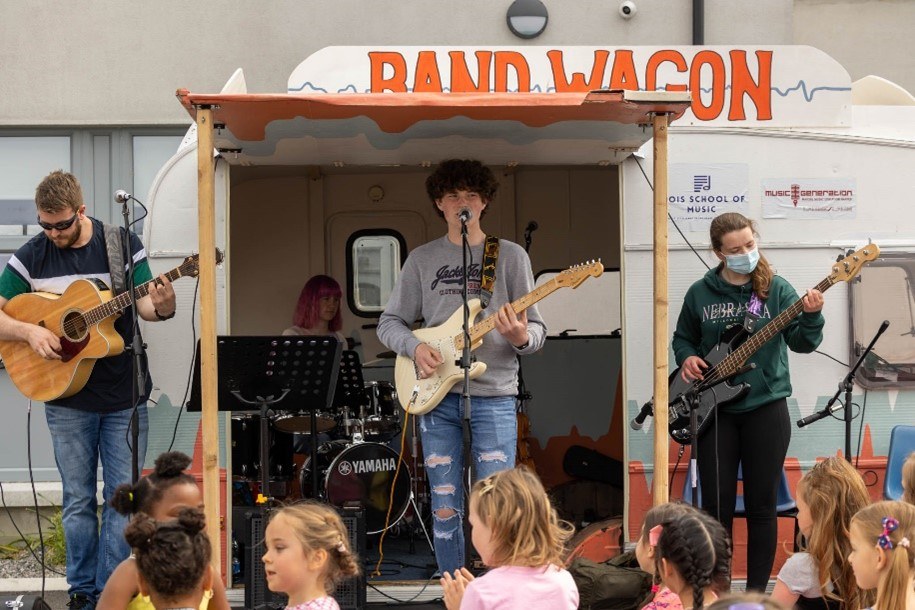 Music Generation Offaly /Westmeath
As part of The Music Box Residency, a joint project of Music Generation Offaly / Westmeath in partnership with Youth Work Ireland Midlands, young musicians from across Offaly and Westmeath worked with music industry professionals to develop their song writing and recording skills. The young composers also collaborated with a videographer as they storyboarded and filmed videos to accompany their music. Their music and videos will be released to the world on Culture Night via live Facebook stream from 7pm on the Music Generation Offaly / Westmeath Facebook page.
Music Generation Roscommon
Music Generation Roscommon commenced their celebration of Culture Night a little earlier this year at the official launch of Culture Night Roscommon 2021 in the Amphitheatre, Loughnaneane Park of Roscommon Town. Cllr Joe Murphy, Cathaoirleach of Roscommon County Council officially launched the event alongside Arts Officer, Rhona McGrath.


Two young bands from Roscommon's Music Hub in Boyle joined in the celebrations, with one band performing their original song, Solas. Not only this, but both bands have been invited to perform their original songs on the grounds of King House Boyle on Culture Night as Guest Performers during the Boyle Songwriters Circle CD launch, so if you're in Roscommon this Culture Night make sure to check it out!
Wherever you are on Friday, 17 September 2021, we hope you enjoy and experience Culture Night 2021. For more information on all cultural activities happening both locally and nationally head over to www.culturenight.ie.