The region of Catalonia is home to one of the oldest documented musical traditions in Europe. It has a long musical history, incorporating a number of different styles and genres over the past two thousand years. The cosmopolitan town of Sitges sits to the east and, for the last seven years, has hosted a unique four-day musical event with an Irish twist: the Sitges Live festival.
Sitges Live is a showcase of high quality Irish and Catalan performing artists, produced and delivered by Irish based arts organisation Creative Connexions which aims to develop the relationships between Ireland and other cultures. On Saturday 26 October 2019, young Music Generation musicians from Carlow, Laois, Waterford and Wicklow travelled to the festival for a weekend of music, performances and workshops, alongside their tutors and mentors.
The young musicians, who make up four groups, had the opportunity to perform in their very own special concert, 'Alborada and the Dawning of New Irish Music,' at the Teatro El Prado. They were part of a festival line-up that included Catalan musicians and Irish performers such as John Sheahan (The Dubliners), Paddy Casey, Jack O'Rourke, Lisa Lambe, Martin Tourish, Saoirse Casey, Mossie Martin, Sibeál Davitt, NoCrows and the Carbonell Sisters.
The first to take to the stage was the Rithim Trad Orchestra from County Wicklow which performed three pieces from the Slí Mhantáin Suite composed for them by Rachel Duffy, Tim Doyle and Gerry O'Donnell. The Rithim Orchestra is a Bray-based traditional music orchestra comprising harps, flutes, fiddles, uilleann pipes, concertina, bodhrán, banjo and guitar which grew from a partnership between Bray Comhaltas and Music Generation Wicklow. During the trip, the Rithim group had the opportunity to workshop with mentor John Sheahan, one of the original members of the Dubliners.
The Rithim Trad Orchestra has gone from strength to strength this year, having already performed as part of the Music Network Artist Residency concert series alongside three of Ireland's leading traditional musicians Triona Marshall, Tim Edey and David Power, as well as Live at the Gig Rig at Fleadh Cheoil na hÉireann 2019.
Next up was the Music Generation Laois Trad Orchestra performing 'Visions and Voices'. This piece was commissioned by Music Generation Laois in 2016 to mark the Centenary of the 1916 Rising, composed by Martin Tourish in collaboration with the young musicians themselves. The Trad Orchestra also had a chance to take part in workshops with Martin while in Sitges.
The Orchestra have had a busy year of performances, including appearances at Laois' Music at the Malthouse, Fleadh Cheoil na hÉireann 2019 and Tionól, among others.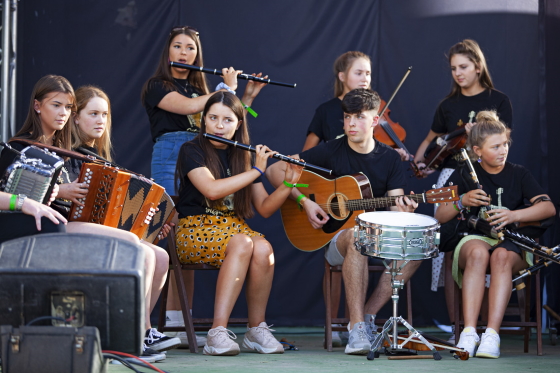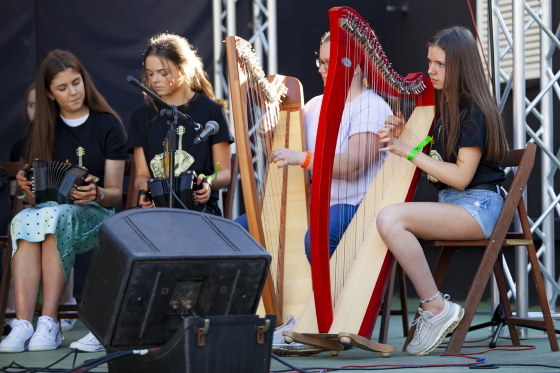 Photos: Ted Cotter
Last to perform on the evening was Music Generation Carlow's Reelig and Music Generation Waterford's Senior Traditional Ensemble who came together for a very special collaboration on the piece 'The Colour of Warmth.' This work for Tape and Trad Orchestra was composed by Martin Tourish in collaboration with the young musicians using recordings from workshop improvisations overlaid with the voice of poet Vincent Woods, reading from Pearse Hutchinson poems. Based on an exploration of Catalan culture, this new piece has central themes of surrealism, realism and human warmth. This work was commissioned for Sitges Live '19, co-funded by the Music Generation/Arts Council Partnership.
As part of their workshop opportunities, Reelig was mentored by David Lombardi (who they previously worked with at the 2019 Music at Mount Leinster festival), while Waterford's Senior Trad Ensemble was mentored by Conor Arkins.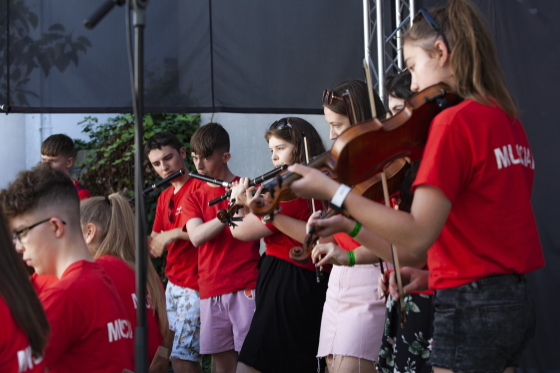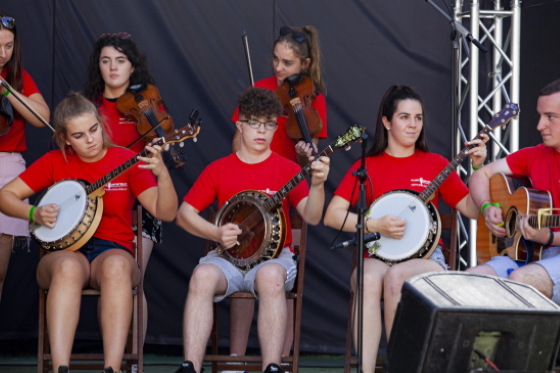 Speaking after the concert young Carlow musician Katie Brennan said: 'Going to Sitges has always been one of the highlights of my year. It always has been such an amazing trip full of joy and great music. This year was especially amazing. There was something different compared to other years. Maybe it's down to the fact that we are all a bit older now but the freedom and trust given to us this year really did mean a lot. It was just sheer and utter fun. From morning workshops to sun-set strolls on the beach. From day time concerts to 5am sessions in El Cid (the place to be). Sitges will forever be a memory of Reelig that will stay with me through life. I feel it brought us closer as a group and to me, Reelig is more than a group of friends playing music. It's a family. I will truly miss everyone and everything associated with Reelig when I leave. As it is my final year in Reelig, after five amazing years of my life, I'd like to thank everyone involved for making it so special and memorable, especially Áine who has been there since day 1. The opportunities I have gained and the experiences I have had are truly remarkable. Reelig has helped me grow as a person each and every year. It gave me so much confidence and helped me become the person I am today. I've made some life-long friends and I will be forever grateful for that.'
Fellow Reelig member Diarmuid O'Neill said: 'This was my first year in Reelig and my first year in Sitges. It was the best part of my Reelig experience so far and one of my favourite musical experiences ever. I learned so much… my favourite parts were getting to work with Martin Tourish on an amazing yet challenging piece of music and making loads of new friends from loads of different counties in Ireland. I only started playing traditional guitar a year ago and I gained a lot of valuable experience from playing at different amazing and lively sessions. The biggest challenge for me was learning so many new tunes and joining in at sessions but with help from Jack and others I was able to succeed and improve. I also really enjoyed hanging out with everyone during free time and exploring Sitges with the lads as well as all the great performances put on by the tutors and other Music Generation groups.'
The last time Music Generation groups performed at the Sitges Live festival was in 2017, but this year marks the largest Music Generation representation to date. As the programme continues to grow we're looking forward to many more collaborative opportunities for young musicians across the country.