On Saturday, 24th November, 15 young musicians from Music Generation Offaly/Westmeath travelled to Maynooth where they showcased their talents as part of the University's open day activities.
All of the young musicians were recently selected to be involved in Sinfonia, an orchestral residency developed by Music Generation Offaly/Westmeath in partnership with Maynooth University Music Department. Sinfonia places musicians from Maynooth University Music Department who are at the start of their professional careers together with young musicians from the Midlands, creating opportunities for shared learning and mentorship. The entire residency is also overseen by established musicians from some of the country's leading ensembles.
2018/19 marks the second edition of Sinfonia, which enjoyed extraordinary success during its first year in 2017/18.
Saturday's meeting was only the second of five Sinfonia rehearsals. Under the direction of conductors Andrew Synnott and Karen Ní Bhroín, the orchestra is preparing a challenging programme of music to be performed over the weekend of 6th and 7th April 2019 in both Athlone and Maynooth. Karen Ní Bhroín, who led this month's rehearsal, is currently pursuing further study in the US but is regularly back in Ireland where she maintains a busy schedule of conducting. A former RTÉ conductor-in-training, she described her experience of working with the ensemble: 'I really enjoy my time with Sinfonia, it's great to get the chance to work with the next generation of Irish musicians'.
Music Generation Offaly/Westmeath is part of Music Generation, Ireland's national music education programme, initiated by Music Network and co-funded by U2, The Ireland Funds and the Department of Education and Skills. Locally, Music Generation Offaly/Westmeath is managed by Offaly/Westmeath Music Education Partnership, comprising of Offaly County Council (Lead Partner), Westmeath County Council and Laois-Offaly Education and Training Board.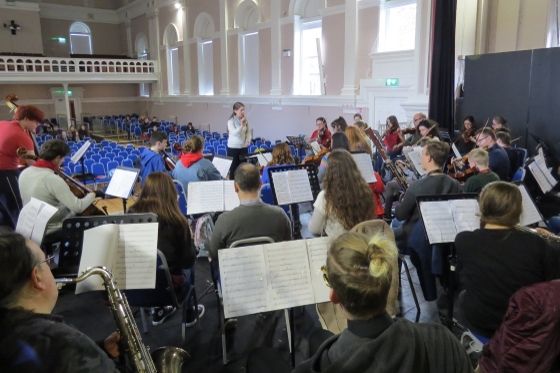 For further information about this and other projects and initiatives at Music Generation Offaly/Westmeath contact:
Margaret Broome, Development Officer
t: 057 9357400
e: mbroome@offalycoco.ie
musicgenerationoffalywestmeath.ie