The Music Generation Laois Trad Orchestra and Music Generation Waterford Traditional Ensembles were delighted to perform at such a significant event which marked a strong recognition for Arts and Culture in Ireland and celebrated Music Generation's achievements over the past ten years. 15 young Musicians from Music Generation Waterford Traditional Ensemble and 18 young musicians from the Music Generation Laois Trad Orchestra, led by Musical Directors Nóra Byrne Kavanagh and Siobhan Buckley, performed an energetic programme and a thrilling collaboration with Sharon Shannon and multi-instrumentalist/composer Alan Connor (member of The Late Late Show House Band).
"Music Generation Laois were delighted to collaborate with our friends from Music Generation Waterford to perform at The Ireland Funds' Annual Conference. Our musicians were outstanding! We are very grateful to U2 and The Ireland Funds for their support throughout our journey, and we look forward to the next 10 years as we continue to make music education accessible to all children and young people in Ireland." Rosa Flannery (Music Development Officer Music Generation Laois)
The Ireland Funds celebrated its first Conference since the pandemic in Killarney, Co. Kerry which saw key donors from around the world meet The Ireland Funds' leadership along with a diverse range of projects representing hundreds of non-profit organisations supported by The Ireland Funds.

Adam Clayton joined the celebration on behalf of U2 and acknowledged the achievement and impact Music Generation has had since its official launch.
"We are immensely proud of everything that Music Generation […] has achieved during its first decade. We are also very grateful to you, The Ireland Funds for a partnership in sharing in our vision and helping us to bring this big idea to life. We believe that Music Generation has the potential to be one the U2's greatest legacies because of the positive and lasting impact that music education can have on the holistic development of children and young people." Adam Clayton (U2)
In just a decade, Music Generation has invested €66.3 million in ensuring access to performance music education across Ireland. It has expanded to 29 counties and the number of children and young people participating in the programme has grown from 6,481 programme participants in 2012 to almost 80,000 today. The programme has delivered 490,000 hours of performance music education tuition since its inception and has increased its staff from one employee to 442.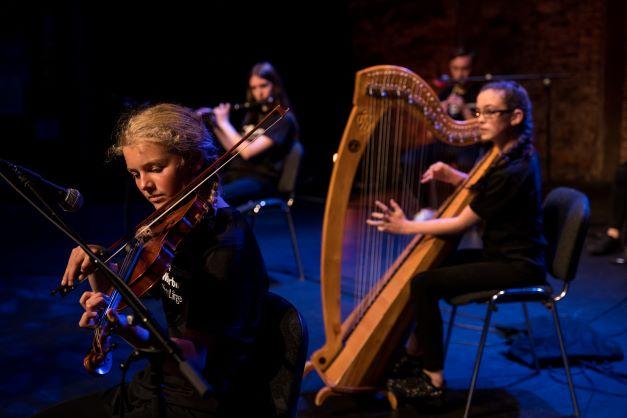 Music Generation Waterford Traditional Ensembles were established in 2019 under the directorship of Nóra Byrne Kavanagh to provide an opportunity for young Irish Traditional musicians to experience ensemble performance of the highest quality. The ensemble is made up of 27 young traditional musicians from across the South East of Ireland.



In 2019 Music Generation Waterford Traditional Ensemble members collaborated with Music Generation Carlow to work with Donegal Accordionist Dr. Martin Tourish where a new 30min suite was created called 'The Colour of Warmth' funded through Music Generation/Arts Council partnership. This work was premiered at Creative Connexions Festival Sitges, Catalonia in October 2019.


Throughout 2020/21, despite the pandemic, Music Generation Waterford Traditional Ensembles continued part online and when possible in person, creating many new virtual performances, including representing Music Generation Ireland on a worldwide virtual platform at The Ireland Funds Conference in late 2020. In 2021 the ensemble members collaborated with Winston Salem Youth Symphony Orchestras in Salem, North Carolina USA to celebrate Irish/American relationships for St. Patrick's Day 2021 with a reflective orchestral arrangement of 'Mo Ghille Mear'. The ensembles also launched a new traditional solo series celebrating the young musicians and ensemble members with the opportunity to create a professional performance recording as part of an on-going performance series.


In 2021, the Music Generation Waterford Traditional Ensemble collaborated with fiddle player Fergal Scahill to create three new pieces, a reel, jig and a waltz. The majority of this collaboration took place virtually until November 2021 when the ensemble met in person with Fergal, joined by composer and musician Ryan Molloy to perform the new music to a live audience in the historical Theatre Royal Waterford. After an almost two year hiatus, the performance was electrifying and met with a standing ovation!



Since the ensemble began in 2019, the young musicians have collaborated with many well-known professional musicians including Benny McCarthy (button accordion), Caoimhín Ó Fearghail (flute, uilleann pipes), Conor Arkins (fiddle), Siobhan Buckley (harp), David Lombardi (fiddle), Jean Damei (guitar), Dr. Martin Tourish (piano accordion), Fergal Scahill (fiddle) and Ryan Molloy (piano).


Throughout 2021/22 the ensemble have been working on a new 40 minute suite of music, composed and arranged by Music Generation Waterford musician team Nóra Kavanagh, Danny Pullman (saxophone), Jennifer Hartery (classical guitar), Jill Devlin (harp) & Cristopher O'Sullivan (percussion) and the young musicians. The suite will celebrate a fusion of sounds mixing together a wide range of instruments from cross genres through newly composed tunes inspired by Waterford landmarks and well-known places. The suite will be premiered in August 2022.
The Music Generation Laois Trad Orchestra was established in January 2016 under the directorship of Siobhan Buckley and is made up of 28 young traditional musicians. In May 2016, the orchestra collaborated with Donegal Accordionist Dr. Martin Tourish to create a new 30 minute suite of music '1916 Visions and Voices' funded by the Laois 2016 Community Fund, Per Cent for Art through Laois County Council and the Music Generation/Arts Council Partnership. '1916 Visions and Voices' was premiered on the 22 of May 2016, as part of the Music Generation Laois New Works Series, to an unprecedented public response! This work has since been performed at Fleadh Cheoil na hEireann in Ennis 2016, and in 2017 for Canadian Prime Minister Justin Trudeau and Taoiseach Leo Varadkar in Dublin Castle. Also in 2017 'Visions and Voices' was performed in Wicklow for the Ireland Funds Worldwide Conference attended by Taoiseach Leo Varadkar and Prince Albert of Monaco and has also been recorded and launched as a CD.


In 2018, the Music Generation Laois Trad Orchestra premiered a new work 'Loinnir Laoise,' commissioned by Music Generation Laois and composed by Ryan Molloy as part of Music at the Malt House 2018, Music Generation Laois' annual music festival. 'Loinnir Laoise' was performed for a second time on the gig rig at Fleadh Cheoil na hEireann 2018 in Drogheda.


The Music Generation Laois Trad Orchestra have collaborated with many well-known musicians including Christ Stout (fiddle), Catriona McKay (harp), Zoe Conway (fiddle), John McIntyre (guitar), Ernestine Healy (concertina) and Michael Rooney (harp). Members of the Trad Orchestra have represented Music Generation in New York and Monaco. In 2019, the orchestra performed at Creative Connexions Festival in Sitges, Spain.


In 2021, the Music Generation Laois Trad Orchestra premiered a new suite of music, 'The Impossible Dream' again uniting forces with Composer Dr. Martin Tourish. 'The Impossible Dream' tells the story of pioneering Portlaoise Pilot, Colonel James Fitzmaurice.
The Ireland Funds Photo Credit: Aengus McMahon
Music Generation is Ireland's National Music Education Programme that gives children and young people access to high-quality, subsidised performance music education. Initiated by Music Network, Music Generation is co-funded by U2, The Ireland Funds, the Department of Education and Local Music Education Partnerships (LMEPs) in which Education and Training Board and Local Authorities play a lead role.


Subscribe to our Newsletter by scrolling to the end of this webpage!


Follow us on social media!