It certainly was a year like no other for Tionól Harps & Pipes 2020, the only harps and pipes festival in the world! Hosted by Music Generation Laois, this annual event was re-imagined for its fifth year and went mainly online from 30 October to 1 November 2020 to bring people together through music.
An overwhelming number of 112 young harpers and pipers took part in Tionól from all over Ireland. As always, this unique event gathered young musicians from the national Music Generation network, while also welcoming non-Music Generation players and friends. However, a challenge for this year's gathering curtailed young musicians from descending on Portlaoise for what is normally a residential weekend of music, concerts and social opportunities. Instead, the young people of Laois were lucky to be able to participate in person following safe social distancing procedures, while other young players from various counties joined in online together with their musician educators.
"Fantastic experience and opportunity to connect far and wide."
Tionól 2020 had a bustling line-up of music workshops and performances. This year's festival welcomed guest harpers: Michael Rooney, Catriona McKay, Rachel Hair, Siobhan Buckley, Grainne Hambly, Anne-Marie O'Farrell, Lauren O'Neill, Rachel Duffy, and Jill Devlin. While guest pipers included: Louise Mulcahy, James Mahon, Paul Harrigan, Ryan Murphy, Kieran O'Hare, Leonard Barry, Joseph Byrne, and Tim Doyle.
Not only that, but the weekend also showcased a variety of young musician performances and virtual collaborations through a performance series hosted on the Music Generation Laois Facebook and YouTube channels.
An amazing series of online outreach workshops led by Louise Mulcahy, Catriona McKay, and Siobhan Buckley also took place in the lead-up to the weekend. The determination and commitment to the music as shown from these young musicians was nothing but inspiring.
Tionól also celebrated and gave space to the stunning launch of Scottish harper Catriona McKay's new solo harp album 'Love in Secret'. The online launch of the album was live streamed beautifully from Dunamaise Arts Centre, Portlaoise on Sunday, 1 November at 7pm via the Music Generation Laois Facebook and YouTube platforms.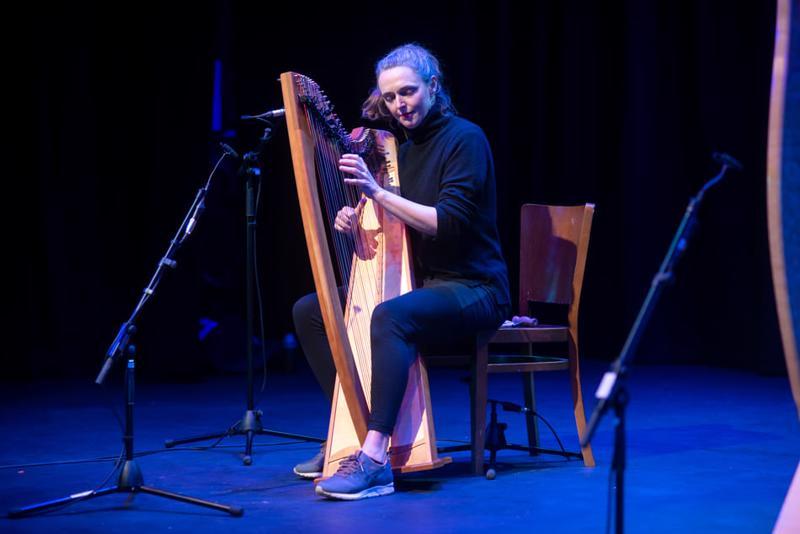 While Tionól 2020 was undoubtedly a year like no other, it still saw generations of young and professional musicians come together in celebration of two key instruments in Ireland, the Irish harp and the uilleann pipes. Speaking at the event, Rosa Flannery (Music Development Officer with Music Generation Laois) explained, 'while Tionól this year is different in many ways to previous years, we took the decision to still make Tionól happen, as it is an important focal point for young harpers and pipers, an opportunity for them to learn new music, to progress, to see their friends from all over the country and make connections. Classes were primarily online, and the uptake was so positive, we were at full capacity which was just brilliant. Young people are currently devoid of many opportunities, they were thrilled that Tionól could happen on some level, and of course we are all really hoping that in 2021, we will be reunited in person.'
Congratulations to Rosa Flannery and her team at Music Generation Laois who adapted so quickly and creatively to the new reality, keeping the importance of this event in our annual calendar in Ireland, and for making Tionól Harps & Pipes 2020 one to remember!
Tionól Harps & Pipes is co-funded through the Music Generation/Arts Council Partnership.