Applications are now open for high-standard, dedicated young trad musicians to join the Music Generation Laois Trad Orchestra. Membership is for 2018 and will commence in January 2018.
The positions open for audition are:
Button accordion
Mandolin
Banjo
Flute
Fiddle
Piano
Harp
Uilleann Pipes
Double bass
Standard: This opportunity is for advanced traditional music students with four or more years' experience.
Age: 21 and under.
Weekly rehearsal: Successful applicants must be available for weekly rehearsal on Saturdays from 10am to 11.30am. Attendance is strictly monitored. If members miss more than three rehearsals throughout the academic year, their membership will be relinquished.
Fee: €100 annual orchestra membership fee.
How to apply: Spaces are allocated on an audition basis. To register your interest in auditioning, please email musicgenerationlaois@laoiscoco.ie with the following information:
Name
Date of birth
Instrument(s)
Standard (how many years you have been playing, any significant performances or achievements during this time), Parent/Guardian contact telephone number (for those under 18)
Home address
Please note that as this is an advanced ensemble, expression of interest emails are to come from young people. Applications made by parents/guardians on behalf of their child will not be accepted.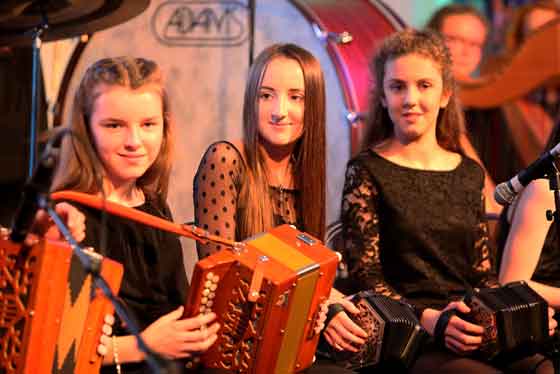 Deadline for receipt of applications: 5pm, Thursday 30 November
Auditions: Successful applicants will audition on Tuesday 5 December in the Portlaoise Further Education & Training Centre.
The Music Generation Laois Trad Orchestra was established in January 2016 under the directorship of Paul Finn and Siobhán Buckley. In May 2016, the Orchestra collaborated with Donegal Accordionist Martin Tourish to create a new 30-minute suite of music, '1916 Visions and Voices', funded by the Laois 2016 Community Fund, Per Cent for Art through Laois County Council and the Music Generation/Arts Council Partnership. The music was premiered to unprecedented public response on 22 May 2016 as part of the Music Generation Laois New Works Series. The work has since been performed at Fleadh Cheoil na hEireann Ennis 2016, for Canadian Prime Minister Justin Trudeau and Taoiseach Leo Varadkar in Dublin Castle, and in Powerscourt Hotel for the Gala Celebration of The Ireland Funds Worldwide Conference 2017, which was attended by Guests of Honour His Serene Highness Prince Albert II, Sovereign Prince of Monaco, and An Taoiseach Leo Varadkar.
The Trad Orchestra performed on the Gig Rig at Fleadh Cheoil na hEireann once again in 2017. You can look back on the performance below:
The ensemble has worked with acclaimed composer Ryan Molloy and participated in workshops with brilliant Irish musicians such as Michael Rooney and members of Goitse.
Please note: This is a highly professional youth ensemble. Repeated absenteeism is not acceptable nor is poor timekeeping. Additional rehearsals and performances are scheduled frequently and these are mandatory. Young musicians must come prepared to rehearsals. In line with the expectations of adult professional musicians, poor conduct and irresponsible behaviour by Orchestra members are not accepted.
For further information about the Music Generation Laois Trad Orchestra, please contact:
Rosa Flannery, Coordinator, Music Generation Laois
Laois County Council, Áras an Chontae, Portlaoise, County Laois
t: +353 57 8664176
e: musicgenerationlaois@laoiscoco.ie
musicgenerationlaois.ie