Join Music Generation as we step into the sounds of summer 2020, with up to 20 summer camps being offered around the country it's a treat of musical learning and fun. Many of these summer courses are open to all aspiring young musicians around the country as most workshops and lessons are being delivered online – what a great way to access music education opportunities!

Music Generation Local Music Education Partnerships have organised quality music workshops in a diverse range of genres, for all age groups and levels of performance. Take a look at what is on offer around the country in this summary below and if you'd like more information, follow the links provided or contact the relevant Music Generation programme.
Music Generation Clare is presenting music workshops at FET Campus in Ennis between 13 - 17 July. Available to 7-18 year olds. Music Generation Clare Digital Summer Camps are available to download from the comfort of your own home – check out their video. To book our place or for more information on these two opportunities from Music Generation Clare, email info@musicgenerationclare.ie
Music Generation Cork City presents Summer SING! - a week-long children's singing festival which encourages children to engage with their environment while nurturing their natural singing ability. Summer SING! was established in 2013 and is produced by Art Life Culture in partnership with Music Generation Cork City and supported by the Arts Council Ireland, Cork City Council, Cork City Council Arts Office, University College Cork International Office and Sing Ireland. Register here.
A Music Generation Galway City Blues workshop will take place every Monday in July, as promoted in this fantastic video by Music Generation Galway City.
Music Generation Galway City in association with Galway 2020 European Capital of Culture Small Towns Big Ideas project will also collaborate with ATMOS Galway for August workshops in all things Hip Hop! Check out all the details and book your place here.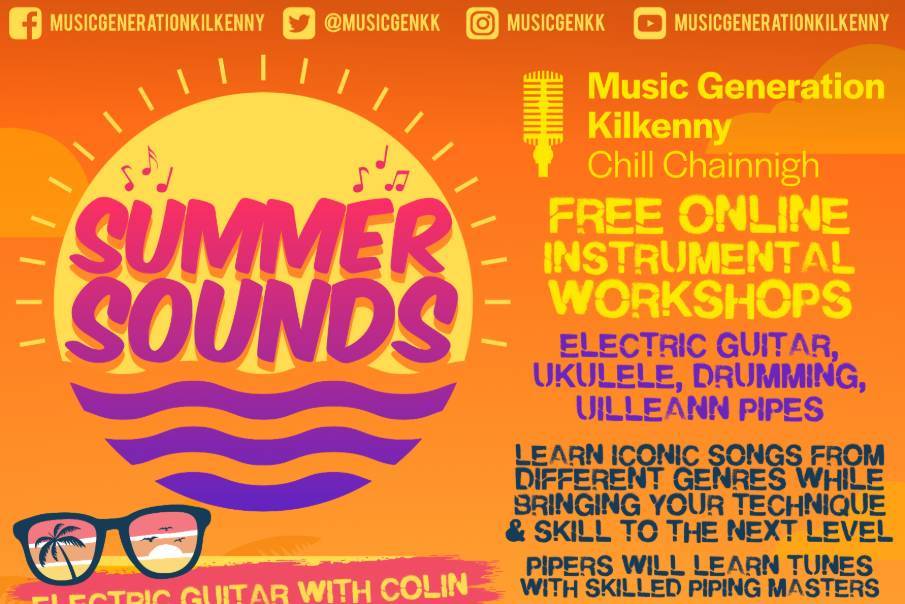 Music Generation Kilkenny has announced an exciting programme of online workshops as part of its programming throughout July and August this summer including a Trad Camp, Song-writing and Sound Production Camp and Uilleann Pipe Workshops, for young people across the county. Early bookings advised, please contact musicgenerationkilkenny@kcetb.ie

Music Generation Limerick City has now brought their Creative Centre online and they are building a unique music-making facility and community, accessible from anywhere and open to everyone.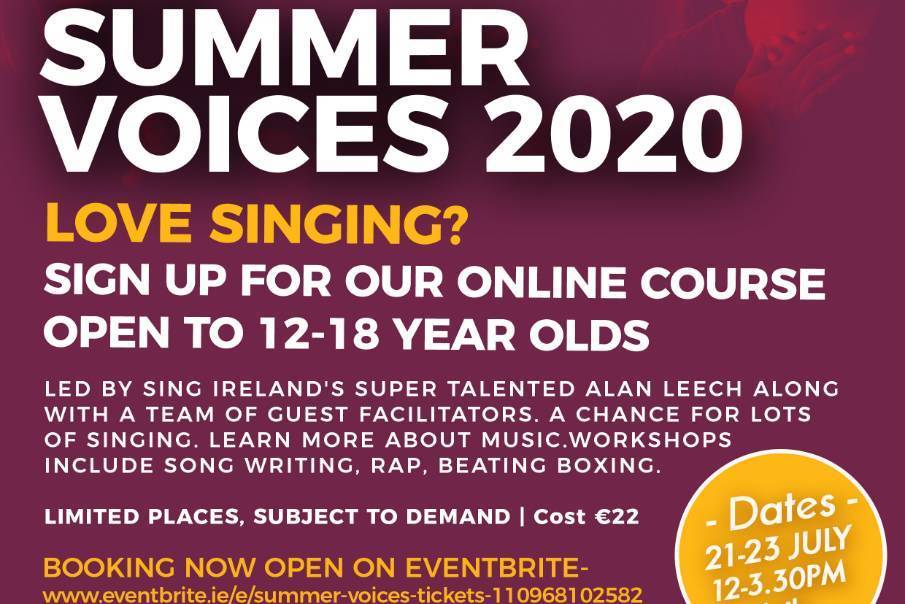 Music Generation Offaly/ Westmeath has joined forces with Music Generation Louth, Sing Ireland and the Irish Music Rights Organisation to create an online singing camp that's a perfect way for teens to spend some time over the summer. Open to young people of all musical abilities aged 12 – 18, living anywhere in Ireland. Sign up for workshops in singing, song-writing and rap, and learn a bit more about music while enjoying some great singing!

Music Generation Louth are also offering a pick 'n' mix course from 7-9 July which promises something for everybody with a focus, as in previous years, on popular music. Choices include music technology, keyboard, guitar, bass guitar, vocals and song writing. Register here.

Music Generation Roscommon is putting on a musical feast of summer camps starting from Monday 6th July, including online drumming, piano, ukulele, and electric and acoustic guitar lessons. For more information on any of their camps visit their Facebook page for more details.
Woodwind, Brass & Percussion players should check out Music Generation Wexford Wind Jammers taking place online from 6th – 10th July.
Music Generation Wexford is also offering Children's Traditional Singing Workshop via Zoom on Wednesdays during the month of July. Please email musicgenerationwexford@wwetb.ie to register your interest.

Why not take advantage of these exciting music-making opportunities with Music Generation and enjoy a fun, safe and song-filled summer!