Delegates at the Atlantic Rim 2017 Summit dinner in Farmleigh House were brought to their feet on Tuesday evening 12 September, as the Music Generation Carlow traditional Irish music ensemble 'Reelig' performed an energetic and intricate set of traditional tunes which captivated the audience, and earned the ensemble two well deserved encores.
Held over three days from 11 – 13 September, the Summit was attended by Ministers and professional representatives from Aruba, California, Finland, Iceland, Ireland, Ontario, Scotland, Sweden, Vermont and Wales, as well as delegates from Education International, and the International Confederation of Principals. The Summit was organised and supported by Boston College, LearnLab, and IMTEC Foundation in association with the Irish Ministry of Education.
The young musicians performing on the day were Thomas O'Donoghue (Button Accordion); Colm Broderick (Uileann Pipes, Flute, Whistle); Meadhbh Broderick (Flute, Whistle); Niamh Nolan (Flute, Whistle); Shane Nolan (Fiddle); Conor McDermott (Banjo); Jack Gladney (Guitar); Oisín Byrne (Bodhrán); and Katie Brennan (Concertina).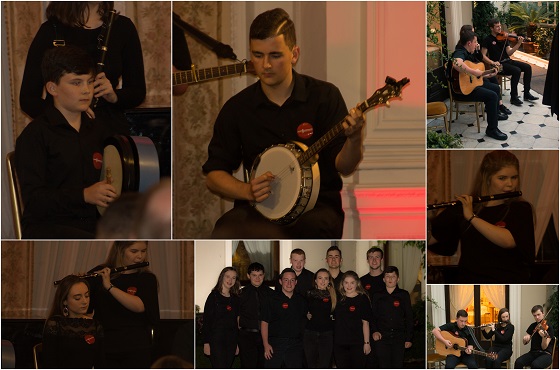 Music Generation Carlow's 'Reelig' is an accomplished collective of young traditional Irish musicians. Formed just three years ago under the direction of Programme Director Paula Phelan and musicians Ciarán Somers and Áine Donohoe, this dynamic ensemble is committed to performing exciting, diverse and challenging repertoire.
Music Generation's Young Ambassadors programme provides opportunities for young musicians throughout Ireland to perform at national and international events.
Music Generation Carlow is part of Music Generation – Ireland's national music education programme, initiated by Music Network, co-funded by U2, The Ireland Funds, the Department of Education and Skills and Local Music Education Partnerships. Locally, Music Generation Carlow is supported and co-funded by Kilkenny Carlow Education & Training Board and Carlow County Council.
For further information about the programmes and initiatives at Music Generation Carlow contact:
Music Generation Carlow, Kilkenny and Carlow Education and Training Board, Athy Road, Carlow
t: +353 59 913 8532
e: pphelan@kcetb.ie
musicgenerationcarlow.ie