In January, Sligo and Mayo school students embarked on an exciting educational weekly music project that will culminate in performances at the Hawk's Well Theatre, Sligo on Tuesday 19 April and the Linenhall Arts Centre, Castlebar on Thursday 21 April. The project, entitled PUNKIT, presented by Music Generation Sligo and Music Generation Mayo, is an explosive, fun performance which will feature 60 students in each show along with internationally renowned percussionist Joby Burgess, conductor and composer Stephen Deazley and the PUNKIT band, in which local maestro Kieran Quinn plays the keys.
Funded under the Music Generation/Arts Council Partnership and delivered by Love Music Productions Ltd (Scotland) for Music Generation Sligo and Music Generation Mayo in collaboration with Music Network, PUNKIT aims to broaden musical horizons, inspire musical curiosity and provide a model of adventurous music making.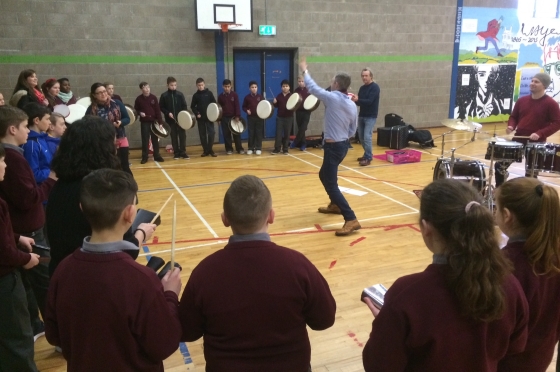 Speaking about the project, Stephen Deazley says:
"This is an educational and musical journey that is part percussion concerto and part giant groove machine, performed by lots of young players alongside professionals, fuelled by a little bit of anarchy and a lot of fun."
Stephen and Joby (of Love Music Productions Ltd, Scotland), together with local percussionists Maeve O'Hara, percussionist Anthony McNamee and Stephanie Pawula, have worked with children age 11 – 13 at St John's National School and Our Lady of Mercy Primary School in Sligo and from Scoil Raifteirí and St. Patrick's De La Salle BNS in Castlebar. The programme in Sligo is part of the Cranmore Regeneration through Music Programme, delivered by Music Generation Sligo.
Kate McKeon and Rhona McGrath, Music Generation Mayo and Sligo Coordinators, said:
"We are thrilled to give so many young people access to this very unique and adventurous participatory percussion project at a critical stage of their musical journey. Having the opportunity to work with professional musicians from home and abroad will broaden their musical horizons, inspire curiosity, and hopefully encourage them to continue their music-making in future years."

Bernard Mulhern, Principal at St John's NS said:
"Taking part in this project has given our pupils a unique opportunity to learn and create music, while working in close harmony with their friends and professional musicians. The excitement of performing on the stage of the Hawk's Well Theatre is palpable throughout the school."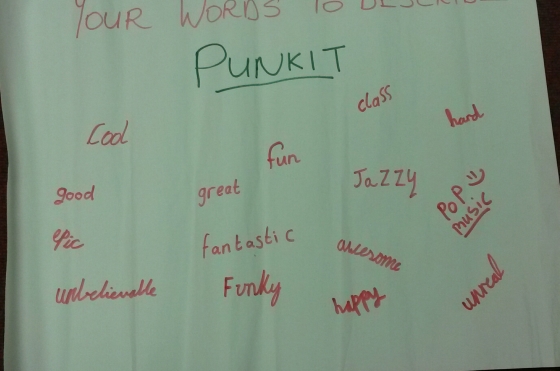 Event information:
Music Generation Sligo at the Hawk's Well Theatre
Tuesday 19 Apr, 1.30pm
€8 (€4 u18s)
Booking:
Tickets on sale via The Hawk's Well Theatre –
+353 71 9161518 / buy tickets online
Music Generation Mayo at the Linenhall Arts Centre
Thursday 21 Apr, 1.15pm
**Schools performance only – tickets unavailable to the general public**

The Music Generation/Arts Council Partnership enables children and young people across all the Music Education Partnerships to engage actively with high-calibre professional musicians from all genres of music. The Arts Council has invested €450,000 in the programme (2013-16) to facilitate an ambitious range of residencies, collaborative performances and composition projects around the country.
For further information about Music Generation Mayo, contact:
Kate Mc Keon, Co-ordinator, Music Generation Mayo
Mayo, Sligo and Leitrim ETB, Administrative Offices, Newtown, Castlebar, Co. Mayo.
t: 094 90 24188
e: katemckeon@msletb.ie
www.musicgenerationmayo.ie
For further information about Music Generation Sligo, contact:
Rhona McGrath, Music Coordinator
Mayo Sligo Leitrim Education and Training Board, Quay Street, County Sligo
t: +353 71 913 8306
e: RhonaMcGrath@msletb.ie
w: musicgenerationsligo.com