Make Some Noise (MSN) is a live performance initiative for young musicians and bands aged 14 to 18 years, supported through Music Generation Waterford and Waterford Youth Arts.
It takes place in Waterford Film Centre, The Form Theatre, Waterford City.
The aim of MSN is to support and promote young musicians and bands through an accessible performance platform under the mentorship of experienced industry professionals and create a social network for young people to meet other like-minded musicians.
In essence, it aims to be a one-stop shop for young musicians and bands seeking performance and music industry experience.
MSN offers access to a live performance platform for young musicians and bands through a free online music show broadcast via Facebook Live. As well as having a chance to showcase their music to online audiences across Ireland and further afield, Make Some Noise creates an opportunity for participants to learn about backline and production, as well as supporting musicians creative vision for the show itself.
Check out some previous broadcasts online here.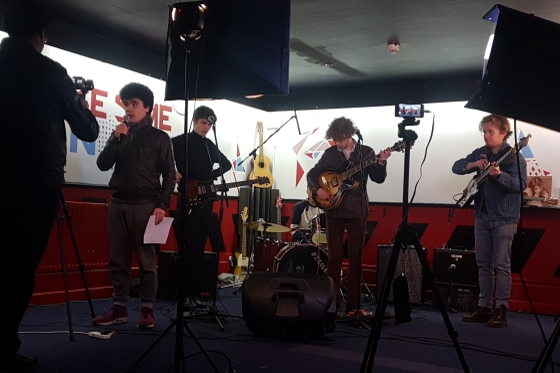 MSN is always on the lookout for singers, musicians and bands to get involved. Performers playing covers or their own material are welcome from all counties in Ireland. Musicians/groups should have at least two pieces prepared to play, should arrange their own transport and bring their own instruments. The backline and PA is provided on site.
Performance slots are currently available for the following broadcasts:
• Saturday 20 March
• Saturday 6, 20 and 27 April
Planning is also underway for a follow-on summer course for MSN performers. Over an intensive two weeks, participants will get involved in recording, music technology, backline, PA, and sound engineering, while also receiving mentoring in stage presence and performance. The course will culminate with a final 'Backstage Pass Gig' in Waterford, to be organised entirely by the young people under the guidance of the MSN team and guest musicians.
For more information about how to get involved contact Music Generation Waterford:
musicgenerationwaterford@wwetb.ie / 087 3191973