Photo: Robin Barnes
The stage is almost set for 60 young classical and traditional Irish musicians to make their highly-anticipated performance debut as members of Nós Nua – Louth Youth Folk Orchestra – at the 'Bloom of Youth' Concert as part of Fleadh Cheoil na hÉireann, on Monday 13 August 2018. A joint initiative of Music Generation Louth and The Oriel Centre Dundalk Gaol (Comhaltas Regional Centre), Nós Nua aims to bring young musicians of diverse playing genres together to explore Louth's local traditions.
Drawn from across four counties – Louth, Meath, Monaghan and Armagh – and under the guidance of experienced composers and musicians, members of this new folk orchestra have been meeting regularly since October 2017 to rehearse, working together to create unique arrangements of new and existing traditional repertoire.
They'll debut their work at 'Bloom of Youth', a celebration of 'Bliainna nÓg' which this year highlights and acknowledges the contribution of young people to Comhaltas, Irish culture and community service. Joining Nós Nua in the line-up will be the Music Generation Louth Harp Ensemble and All-Ireland instrumentalists Sarán Mulligan (concertina), Tadhg Mulligan (fiddle/bouzouki), George McAdam (banjo) and Conal Duffy (pipes/double bass), together with special guests.
In the months leading up to 'Bloom of Youth', the orchestra has seized some exciting opportunities to showcase their work in development and to hone their performance skills. Earlier this month, together with four local dance schools, on the steps of St Peter's Church they took part in a Flash Mob (nicknamed the 'Fleadh Mob'), which will be aired on Fleadh TV in the coming weeks. Representatives from the orchestra also performed in a lunch time concert at the Tholsel, Drogheda, to mark the Cairde na Cruite International Harp Festival on Monday 2nd of July.
Orchestra representatives even joined presenter Kieran Hanrahan for a performance on RTÉ Radio 1's 'Céilí House', broadcast 23 June 2018!
In May this year, members of the group enjoyed a rare chance to work alongside esteemed musician, teacher and composer Martin Power, on a collaborative arrangement of a number of his compositions. This was a particularly special occasion considering the recent announcement that Martin will be awarded the Árd Ollamh 2018 – the highest honour bestowed by the Árd Comhairle of Comhaltas annually at Fleadh Cheoil na hÉireann.
In February the orchestra welcomed virtuoso Zöe Conway to their rehearsals. Zöe facilitated a composition and arranging workshop with the young musicians and together they created a new piece for Nós Nua's repertoire into the future. After the workshop, Zöe commented:
'I was delighted to work with Nós Nua and see the talent for music that our young people have in this region. I particularly loved the crossover element of the traditional and classical genres, as it really benefits both sides to understand the other. I told them they are very lucky to be in this group, as there were no crossover projects like this when I was a teenager and I would have loved it!'
Nós Nua is directed by Kay Webster-Dooley (Oriel Centre) and Gemma Murray (Music Generation Louth) with Project Manager Deirdre Ní Bhuachalla-Malone and Conductor/Co-arranger, Conal Duffy.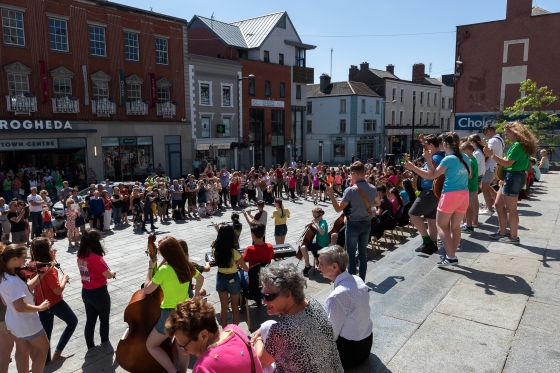 Also as part of Fleadh Cheoil na hÉireann 2018, 11 trad groups and ensembles from seven different Music Generation partnership areas, including Louth, will perform live on the outdoor Gig Rig on Thursday 16 August, between 2pm and 6pm. The Gig Rig will be located at Bolton Square, Drogheda, where audiences will be invited to enjoy all performances free of charge. This is the fifth successive year that Music Generation has presented a session on the Gig Rig, following hugely successful performances during Fleadh Sligo (2014 and 2015) and Fleadh Ennis (2016 and 2017). Music Generation 'Live at the Gig Rig' 2018 is supported through the Music Generation Creativity and Collaboration Fund.
Tickets for the 'Bloom of Youth' Concert as part of Fleadh Cheoil na hÉireann 2018 are on sale now from: fleadhcheoil.ie
For further information about Nós Nua and other projects and events at Music Generation Louth contact:
Gemma Murray, Coordinator, Music Generation Louth
Louth and Meath Education and Training Board, Chapel St, Dundalk, Louth
t: 042 9364635
e: musicgeneration[at]lmetb.ie
www.musicgenerationlouth.ie