Images: Laoise Barry and Finbarr Barry
Musicians from Cork City's Barrack Street Youth Band were among the first to greet HRH Prince Charles, Prince of Wales and Camilla, Duchess of Cornwall as they began a two-day tour of the Republic of Ireland on Thursday at the English Market.
Performing for hundreds of onlookers lining the street at Grande Parade, the young musicians created a spectacular atmosphere while crowds eagerly awaited the arrival of the royal couple. Their vibrant, energetic performance included versions of 'Sweet Dreams', 'Seven Nation Army' and 'I Want You Back'.
Speaking to The Irish Times, members of the ensemble reflected on what it was like to lead such a significant welcome party:
'We only found out we were playing four days ago,' says 12-year-old Conor Redmond.
'We were shocked,' says 14-year-old Luca Andreoni.
'The royal family are so big,' says Redmond, 'you don't get bigger.'
'It's a real opportunity for us and for Cork,' says Caoimhe Barry, aged 17. 'And Cork is the real capital like.'
Despite having only learned about the performance a few days in advance, under the mentorship of their tutors Shauna McCullough, Clodagh Kearney and Stephen Manning Jr. the young musicians more than rose to the occasion!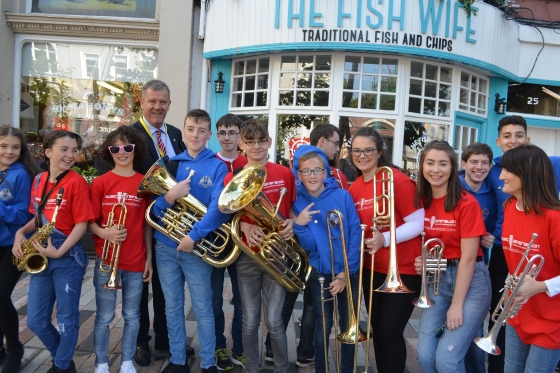 Indeed, many of them are no strangers to such high profile opportunities having just recently played for President Michael D Higgins at a special concert in Cork City Library as part of the Cork Lifelong Learning Festival, and at Music Generation's inaugural National Musicians' Day.
The young brass musicians are members of the Barrack Street Youth Band, a partnership initiative of Music Generation Cork City and the Barrack Street Band.
Music Generation Cork City works in partnership with community-based musicians and music organisations to bring music education to children and young people across Cork City. Using the Community Education process, socially-inclusive performance music education programmes are made available in the places where children live, play, and go to school, bringing opportunities for music-making into the heart of Cork's communities. There are currently over 2,000 children and teenagers accessing Music Generation Cork City partner programmes.