From 2 to 4 November Music Generation Laois will welcome generations of harpers and pipers from throughout Ireland for the third annual 'Tionól' weekend, 2018.
Described as a celebration of the Harp and the Uilleann Pipes, the event will bring together some 100 young musicians as well as many of Ireland's renowned professionals to exchange ideas and develop new skills through a series of workshops and performances.
'Tionól' was initiated by Music Generation Laois in 2016 in response to the growing practice of harps and pipes playing among young people within and beyond the county. Designed as a 'camp-style' residential weekend, the event was envisaged as a progression route – an opportunity for young musicians to collaborate with their peers and gain new perspectives from visiting and guest professionals from outside their local communities. Tionól also sought to develop the strong partnership links between various Music Generation partnership areas, community-based and national music resource organisations, including Na Piobairí Uilleann, while preserving and promoting the tradition of harp and pipes playing within local communities.
The participants and tutors at Tionól 2017 share their own first-hand experiences in this short documentary video:
During this third edition, participants will have the opportunity to work alongside workshop tutors including: Pipes – David Power; Timothy Doyle; Mick O'Brien; Mark Redmond; Fionnán MacGabhann; Leonard Barry; Joseph Byrne; and James Mahon, and Harp – Siobhán Buckley; Catriona McKay; Tríona Marshall; Deirdre Ní Bhuachalla; Gráinne Hambly; Billy Jackson; Lauren O'Neill; and Anne-Marie O'Farrell.
A concert schedule has also been included in the line-up, offering opportunities for participants, families, friends and guests to see the musicians at play each day during Tionól. On Saturday, 3 November, National Uilleann Pipe Day will be specially marked at a concert in Dunamaise Arts Centre.
Tionól 2018 is funded by the Music Generation/Arts Council Partnership, the Trench Trust and Local Partners.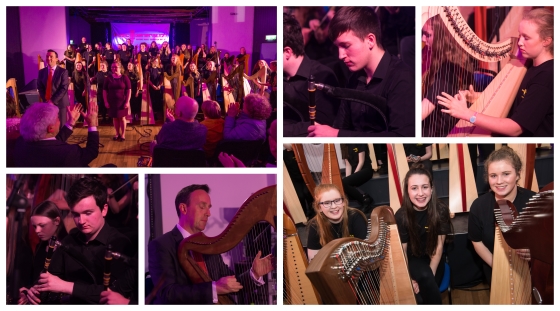 Concert schedule:
Friday 2 November: Tionól 2018 Opening Gala Concert
Portlaoise Further Education and Training Centre, Tower Hill, Portlaoise, 7pm
Featuring performances by Tionól tutors, Chris Stout and Catriona McKay and Venezualan band 'Compasses'
Tickets: €5, available on the door (free of charge for Tionól participants)
Saturday 3 November:
Dunamaise Arts Centre, Portlaoise, 7pm
Concert featuring young harpers and pipers from across Ireland to mark International Uilleann Pipe Day
Tickets: €5, available via Dunamaise Arts Centre 057 8663355 / Dunamaise.ie
(free of charge for Tionól participants)
Sunday 4 November: Closing Student Concert
Portlaoise Further Education and Training Centre, Tower Hill, Portlaoise, 2pm
Tionól Closing Party featuring 'Compasses'
Admission: on a first-come, first-served basis on the door
Compasses, who perform on the Friday and Sunday of Tionól 2018, perform Daft Punk's 'Get Lucky':
For further information about this and other programmes at Music Generation Laois contact:
Music Generation Laois Administrative Offices, Laois County Council, Áras an Chontae, Portlaoise
t: 057 8664176
e: musicgenerationlaois[at]laoiscoco.ie
w: musicgenerationlaois.ie