100+ representatives from 17 Music Generation partnerships came together last Friday, 23 March at St Patrick's College Campus, DCU, for the first ever Music Generation 'National Musicians' Day' 2018.
This inaugural event offered musicians and staff an opportunity to engage in a day-long programme of knowledge-sharing, reflection and collaboration. Musicians were welcomed to meet and network with colleagues from other areas of the country, gathering fresh ideas, sharing successes and challenges in their practice.
One of the stand-out moments of the Day was a special guest performance from young-artists-in-residence 'Rebel Brass' – an New Orleans-style ensemble of young musicians presented by the Barrack Street Band in partnership with Music Generation Cork City. Led by musicians Shauna McCullough, Clodagh Kearney and Stephen Manning, Rebel Brass blew the roof off the campus venue with a spectacular mash-up of 'Sweet Dreams' and 'Tequila'!
Video: Music Generation Cork City
The members of Rebel Brass continued their significant contribution to the day in facilitating a 'break-out session' for musicians, focussing on how we might best support young people to take the lead in their music making, and how to take a youth-led approach to music teaching and learning.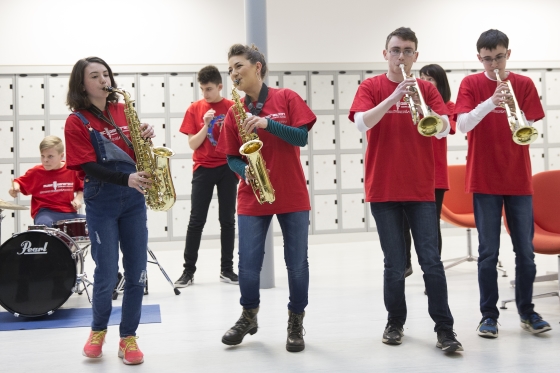 Bill Whelan in his keynote address spoke to delegates at the event about the vital role that each of the professional musicians within the network plays in inspiring and education our next musical generation:
When, at the beginning, Bono expressed U2's aspiration he said that what they wanted to do was "really simple. We just want to make sure that everyone, whatever their background, gets access to music tuition." All of you sitting here today are not alone gifted musicians and performers in your own right, but you are also the hands-on executors of that "simple" idea. Rosaleen Molloy and the excellent team here at Music Generation, together with the local partners and now our government provide the kindling for that flame – you provide the ignition.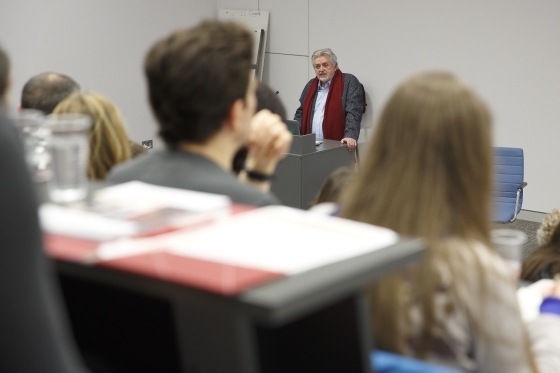 Bill reflected on his own musical journey and his memories of learning music from a young age:
'I grew up in a city where music education was somewhat patchy. It was certainly not available to everyone – Those who could afford it sent their children to one or more of the private music teachers around the city. Whether we could afford it or not, my parent's passion for music meant that I was sent to a selection of tutors. All of these undoubtedly went to the coda of their lives wondering why a student like me, undeniably excited by music, could not sit still for long enough to learn their scales, arpeggios and contrary-motion exercises. I suppose one of the things a tutor must learn is that it is not just enough to examine with the student the "how" of playing an instrument, but also the "why", the "when", and perhaps equally importantly, the "when not".'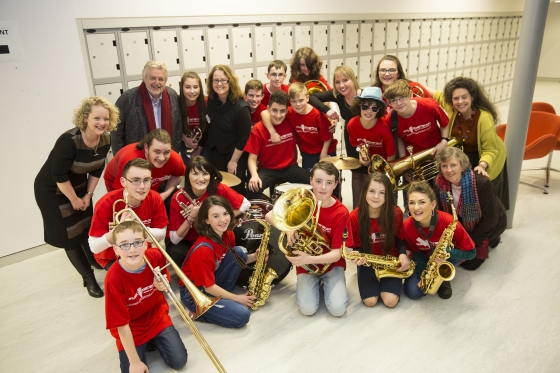 He spoke of his first-hand experience of watching, listening to and being part of Music Generation's extraordinary network of partners, participants and musician teams:
Over the last 7 years since Music Generation began, I have attended many events where we, as board members, were either entertained by the students or invited to sit in and observe at classes and tutorials. The sheer enthusiasm that shone from the faces of the young players was testament to how their teacher/musicians were managing to transmit not just the techniques and the skills, but the love of the subject. It was clear that music was seen as a medium of personal transformation and expression, and not simply as a learned activity, disconnected and remote from the person.
I was thinking today of U2's hope that everyone should have "access to tuition". In the context of what we are all doing here, it may be helpful to think about the origin of the word "tuition". For those few non-Latin scholars in the room, let me help you. It comes from the word tueri which means "to guard" or "to watch". There is something poetically beautiful about the teacher's role as being a watchful one. Watching – not just for the errors, not for the poor intonation, not for the wrong fingering, but for the opportunity to point that young mind towards the horizon of its own potential. The tutor making full use of their intuition. What I have seen through Music Generation's use of practising musicians as tutors is in contrast to my own experience as a pupil. In my day, we were exam-centred along narrowly defined lines of didactic practice and measured assessment. Now what I have seen is a definite move towards the essence of music-making, where skills and technique are valued, but not at the expence of personal and emotional engagement and expression.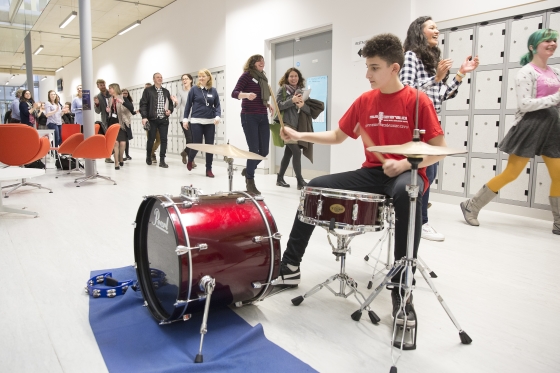 During a time of great social and technological upheaval – for performers, composers, producers, recording artists and industry professionals – Bill addressed the power of the creative musician and the potential to respond to change in ways that can be truly transformative:
'I believe that young musicians should carry in their heads the realisation that not only are they creating something that nourishes and stimulates, but that that something has a value which itself needs to be cherished and sustained. As my wise violin teacher John McKenzie told me – what you put in, you'll take out.
…may I say this to all of the musicians and educators here today. You are, I believe, living and working in a really exciting time in so many ways. What has happened in the last 20 years is profoundly affecting every aspect of our lives. It makes the industrial revolution look like quite a small affair really. In these kind of times, the arts have traditionally responded with a great burst of creativity, and in playing with and educating the musicians of the future, you have an intimate and vital connection with whatever emerges artistically from such upheaval. You are, as I said at the beginning, the ignition.'
Other items on the jam-packed agenda included an opportunity for musicians to offer 'provocations' from the floor about elements of music teaching and learning that posed questions and generated debate. Break-out sessions created a space for musician-led discussion about specific styles of practice, genres of music and ways of working within the Music Generation network.
Building on the overwhelming success of this landmark event for Music Generation, planning is already underway for a second edition of the National Musicians' Day in 2019 – watch this space!