Age
: 11
From
: Co. Sligo
I have always loved music, both playing and listening. I was six when I started playing the recorder with
Sligo Academy of Music
and I started playing the flute at nine.
Music Generation Sligo
(MGS) came to my school when I was in Senior Infants. It seems like a long time ago now. We got to see and try out instruments for the first time. A flyer advertising Music Generation Sligo's after-school classes in Grange arrived to my school in 2013. My mum signed me up for keyboard lessons and I'm so glad that she did. I have been taking lessons ever since.
My keyboard tutor is Ray Mason. Ray has worked with us on all kinds of songs, from 'Rockin' Around the Christmas Tree' for our Christmas concert, to Justin Timberlake — 'Can't Stop the Feeling'. Ray really makes learning music fun. He picks cool tunes for us and helps us to improvise with our own stuff. My brother Eoin comes to the lesson with me. It's good for us to play together. He hasn't been learning for as long as me, so sometimes I can help him out.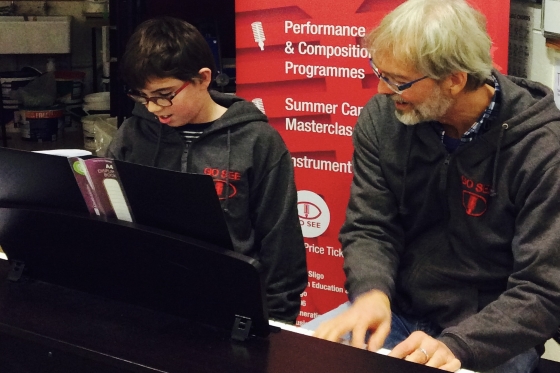 I've taken part in MGS summer camps. When I was younger I did a camp called Orchestral Adventures and for the last two years I did the
Musical Horizons Summer Camp
. It was really awesome. Everyone got to choose from a list of classes and I chose Piano, Piano Ensemble, Flute, Rock Band and Art and Animation. I got to learn lots of new music, meet new people and had great tutors. It was brilliant and I'll definitely do it again next year.
Last September my mum, my brother Eoin and I started a music literacy class together in Sligo Library for 10 weeks called
Autumn Notes
. I know a lot of it already from my music lessons, but it's fun to go with my family and learn together.
Music Generation is really exciting for me because I just love playing music. I get to perform cool pieces with others when we have ensemble practice. At the Musical Horizons Summer Camp we had a concert at the end of the week. I played keyboard in 'Brewing up a Storm' by The Stunning. I wasn't nervous at all and I think the audience loved it a lot. I love being part of a group with other young people playing and singing. I'm also part of Sligo Academy of Music's Junior Orchestra.
At the moment I love listening to AC/DC. I like Rag Time and Jazz too – Ray plays it for us at our keyboard lessons and I learn some on flute too.
Music has become part of who I am. I really love performing so maybe I might be in a Rock or Jazz band when I'm older. For now, I will continue with my lessons and see where it leads.
If anyone is thinking about getting involved in Music Generation I would say definitely give it a go. You will learn lots and make friends along the way!
For further information about this and other initiatives and programmes at Music Generation Sligo contact:
Rhona McGrath, Coordinator / Emma Smith, Administrator
Music Generation Sligo, Mayo, Sligo & Leitrim Education and Training Board, Quay Street, Sligo
T
: 071 9138306
E
:
MusicGenerationSligo@msletb.ie
musicgenerationsligo.com/