Ben sharing his music-making process with young musicians
Age
: 17
From
: Mayo
What instrument do you play? Do you sing? Tell us about it.
I play the piano, drums and a little guitar. However, I'm more interested in music production and sound engineering than playing an instrument. I produce my own music in my spare time and have even released my own EP across all major platforms (Spotify, Deezer, etc.). It is titled 'No Worries' and can be found under the name
Gingermop
.
How did you get involved in Music Generation?
I first got involved with Music Generation through piano and drum lessons. I had skipped straight to grade 3 piano after my first exam and I wanted to keep playing and get better. I took up the drums because I felt it would help me to understand rhythms and beats so that I could integrate them into my own music and improve. At the time, I was only focused on music production, and didn't really see myself as a sound engineer. However, my drum teacher was very experienced with sound engineering and live performances, so after talking to him about what it was like, my passion for it grew further.
What do you like most about Music Generation?
My favourite thing about Music Generation is definitely
The Core Mayo
. It's a youth music space with its own fully functional recording studio that members can book and use for free! In addition to this, there are regular open mics where musicians can play and camps/courses focusing on a wide range of subjects within music. Instead of performing at the open mics, I prefer to man the mixer and sound engineer the performance. The opportunity that The Core provides me with to do this is amazing!
The courses that The Core runs are really beneficial. So far I've attended a sound engineering camp, music recording camp and an intensive music production camp. These camps were invaluable to me as I've learned so much about what I'm interested in. Plus, it has helped me with making my own music at home. I spoke with the producer at the intensive production camp who was able to give me some pointers on how I can improve my own music production.
On that intensive production camp, we recorded a full song in a week! It was difficult, but the end result was worth it. I was given the opportunity to remix the song once it was tracked, and I had a lot of fun trying to incorporate rock music into an electronic style. I tried to keep the song sounding as close to the original as possible, while adding in my own little twists here and there.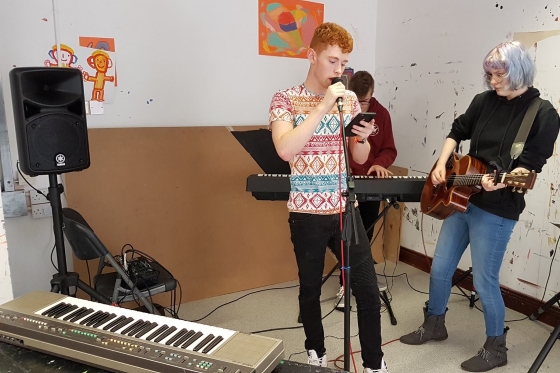 What music are you listening to at the moment? Who are your favourite musicians?
I honestly can't pick a favourite musician. I listen to anything and everything, from Tchaikovsky, to Linkin Park, to Skrillex, to George Harrison. I believe that all music can be enjoyed for a variety of reasons. I don't believe in bad music. All music is good in some respect, whether it be the arrangement, bass line, motifs or even just general creativity, it can all be learned from and appreciated.
My favourite producers are Pegboard Nerds and Knife Party. They are production geniuses! Currently my favourite song is one by Aliotta Haynes Jeremiah. The piano ideas that are developed throughout are very interesting to listen to. At one point, they switch the piano 'riff' to 6/8 time to stop it being too repetitive. I also love the chords used and the country-style drum beat.
Have you performed at any concerts/events? What was that like?
I performed once at one of The Core's open mics, but I mostly prefer to sound engineer other musicians' performances. I was nervous the first time, but after doing a few open mics, I can relax into it now and I really enjoy the process.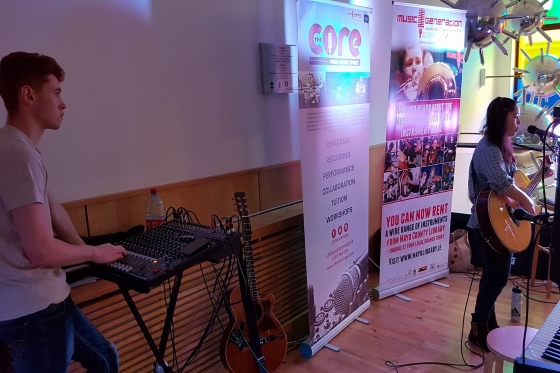 Would you like to be involved in music in the future?
I would definitely like to work with music in the future. I'm planning to do a Music Technology course in college that will expose me to a huge array of jobs in the music industry. Music is my passion and hobby, so to have a job that is based on it would be a dream come true! Whether I work in sound design, foley, producing, composing or critiquing, it wouldn't be work to me— I'd just be earning an income from something I love to do.
However, I admire the work of the likes of Henry Jackman, John Williams, Hans Zimmer, Zack Hemsey, Thomas Bergerson and other prestigious composers. Ideally, my dream job would be to compose for films or games.
What does music mean to you?
Music means a lot to me. I've been interested in it since I was 9 years old, recording my piano on my dad's laptop. I've been producing music for years and I'll be doing it for years to come.
I love the emotion music can invoke in me. For example, John Williams' piece '
Binary Sunset
' from the Star Wars franchise has a few different themes from the movie, but is mostly known for the Skywalker (Force) Theme. This particular theme sends shivers down my back. I find this fascinating and it genuinely makes me shake sometimes. It's not just orchestral music that does this, many songs in multiple genres evoke emotion in me.
What advice would you give to someone thinking about getting involved in Music Generation?
My advice to anyone thinking about joining Music Generation would be to just do it. Whatever you're into, Music Generation can accommodate it in some shape or form. From lessons, to jam sessions, to camps and courses, it's definitely a useful, fun resource for anyone interested in music.
What would you like to do next? What are your next musical ambitions?
Next, I plan to go to college and complete my course in Music Technology, and hopefully get a job doing something with music somewhere.
In the meantime, I'll keep producing music and releasing it. I love doing this as it means other musicians may be appreciating my ideas and arrangements, just as I appreciate theirs.
To hear new releases from Ben, search for 'Gingermop' on the platform you use to listen to music such as Soundcloud, Spotify, Deezer etc.
To find out more about The Core at Music Generation Mayo and how to get involved contact:
Philip Cassidy, The Core (c/o Music Generation Mayo)
Ballina Arts Centre, Barrett Street, Carrowcushlaun West, Ballina, Co Mayo
t
: 087 748 5954
e
:
PhilipCassidy@msletb.ie
thecoremayo.com