Karl Burthom is a classical and jazz guitarist performing and teaching throughout Sligo County across a range of programmes with
Music Generation Sligo
(MGS). Originally from Manchester, he now lives with his wife and two children in Bundoran, County Donegal.
Karl has a Diploma in Community and Group Music Education from the
Royal Irish Academy of Music
. On top of his work with MGS he teaches guitar with Sligo Academy of Music and performs locally in a variety of settings including the Bughouse Jazz Band and the renowned Old Market Street Swing Band.
How did you get involved in Music Generation Sligo?
I applied for a job as a tutor when the project first began in 2011, and was lucky enough to be successful.
Now I teach a number of different modules in various teaching and learning contexts and environments, including
Discovering Music
,
Discovering and Performing Music
and the
Con Tutti programme
. I also teach on the
Instrumental and Vocal after-school programme
and the Music Generation Sligo summer camps. I find all of the programmes are very thorough, well-planned and fun to teach. Each tutor on the team has contributed to the development of the programmes and I feel very proud of the entire project.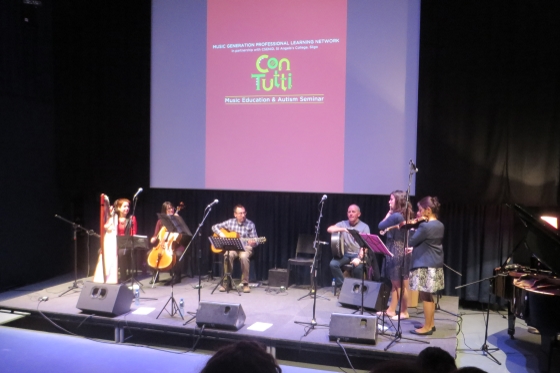 Have you always been interested in music?
Music has always made a big impression on me, which is likely the result of my parents having a big interest. They didn't play instruments but listened to a lot of music. Their record collection was small but eclectic. I grew up listening to Count Basie,
Django Reinhardt
,
Stan Kenton
, Led Zeppelin, Pink Floyd, The Beatles, Queen, Sibelius, Holst, Tchaikovsky and others.
When did you start playing the guitar?
When I was seven years old, my parents bought me a nylon string guitar with which I taught myself, with the help of a Saturday morning television show called '
Play Guitar
' and the accompanying book. I still remember the presenter and teacher's name – Ulf Goran Ahslund.
I tried my best to emulate my guitar heroes of that time – Julian Bream, John Williams, Jimmy Page and Django Reinhardt. In secondary school a group of us used to meet regularly at break times and teach each other what we had worked out from records.
Over the years I've also learned to play a bit of violin, clarinet, sax, drums and keyboard.
What do you like most about your work with Music Generation?
There are many great things. The work itself has meaning, as we're opening a door for a generation of children to a means of expression and imagination. The positive benefits of music-making are well documented – learning music at a young age can bring about greater self-esteem, improved concentration, literacy, numeracy, and social skills. I count myself lucky to have a job that can play a part in achieving those outcomes for children and young people.
The collaboration among the team of tutors in Sligo is something I really like too, and particularly the collaborative work we undertake to design and create the various programmes. I think the tutors can all be proud of the programmes we teach. I like the way the lesson plans allow for a tutor to take their own approach in teaching so we can all utilise our individual areas of expertise. A word of thanks also has to go to Rhona McGrath (Coordinator) and Emma Smith (Administrator) who support the tutor team by handling management and administration of the programme and who have been instrumental to the growth and development of Music Generation Sligo.
Have you performed at any Music Generation Concerts?
I was part of the
tutor band
for last year's concerts which was a lot of fun. One of the most enjoyable parts for me was that the tutors got a chance to mix and socialise. It was great to work with such a talented group of people.
It was also great to see the familiar faces of my students in the audience and I hope they enjoyed seeing the tutors in a different light. The music we put together for the shows had a nice balance of genres and instruments and hopefully this has inspired children to start or continue to learn an instrument and pursue a career in music.
What does music mean to you?
Music really means everything to me. I can't imagine having a day where no music is involved. I play,
compose
and listen. Playing music has always been a way of expressing myself, and of communicating with others. It is an activity that can be introspective and it provides an escape from life's challenges. Yet it can also provide a special connection with other musicians and audiences that is very definitely rooted in the 'moment'. It is a discipline where the joy of learning never ceases and which informs and improves my listening as well as playing.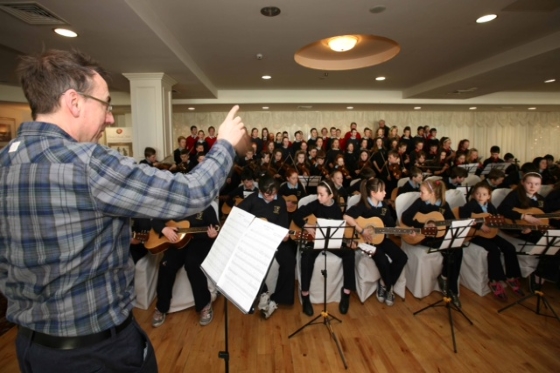 What music are you listening to at the moment?
At the moment I'm listening to the jazz guitarist Joe Pass a good bit (an album called 'Django'), a country guitarist called Brad Paisley (album called 'Play'). I'm also listening to 'Rubber Sole' (The Beatles) and Mozart's 'Haffner' symphony.
What are your musical ambitions?
I am working on gaining a better understanding of different styles of guitar playing. I would love to make more time for composing with the ambition of writing for film.
What advice would you give the young musicians with whom you work?
I think it's important to have good role models – to aspire to be as good as someone you think is incredible on their instrument. Listening is crucial to becoming a good musician, to developing a style. I always encourage my students to listen and gain inspiration, which I think helps give motivation.
I think it's hugely beneficial to play music with others wherever possible. It improves everything about being a musician and is a great way to make friends. I encourage learning to read music alongside learning by ear. Both of these skills are extremely valuable to a working musician; it is enormously beneficial to learn them at a young age.
If a child is enjoying music I think it's a great idea to talk to parents and teachers about possible careers in music. Isn't it a great thing to do for a living what you love doing most? Yet I think many students don't rate music as a viable option as a career.
And what would you say to someone considering getting involved with Music Generation?
Whether the person is a potential student, a school principal considering bringing a Music Generation programme into their school or someone thinking of applying for employment, I would highly recommend it.
For further information about other initiatives and programmes at Music Generation Sligo contact:
Rhona McGrath, Coordinator / Emma Smith, Administrator
Music Generation Sligo, Mayo, Sligo & Leitrim Education and Training Board, Quay Street, Sligo
T:
071 9138306
E
:
MusicGenerationSligo@msletb.ie
musicgenerationsligo.com/