Name:
Cliona Mahon
Age:
13
From:
Co. Laois
What instrument do you play?
I play the harp. It's a beautiful instrument and I've been playing for five years now, which is something that I'm really proud of.
How did you get involved with Music Generation?
Music Generation Laois
introduced harp lessons to our school when I was in 3rd class in primary school. I was one of many students interested in learning the harp, and luckily for me I was one of the people who got a place in a group for lessons. Every Thursday each group would go down to the 'Harp Room', where we would learn a new song and revise the previous weeks song with our teacher Claire O'Donnell for half an hour. After our first year of learning harp, we were introduced to our new teacher, Siobhan Buckley. We all still get on great with Siobhan!
What do you like most about Music Generation?
I like the fact that we all get a chance to ask for help with a particular piece we may be struggling with, and I also like how we get the opportunity to go on lovely trips, to attend concerts and sometimes perform at them.
Can you tell us a little more about the concerts/events you've performed at? What was that like?
I have performed at many concerts and events in the past five years; too many to mention! I love performing both alone and with my fellow harpists. For the past number of years we have attended the
Turlough O'Carolan Harp Festival
in Nobber, Co. Meath. Another highlight was having Scottish harpist
Catriona McKay
over to teach us a composition she wrote for the Senior Harp Ensemble called, Rising of the Harps. We performed this piece for the first time last year, after learning it over a few weeks. We know this piece so well that we still perform it at nearly every concert we play in.
This year, for the first time ever, we flew to Scotland to take part in the week long
Edinburgh Harp Festival
. We left for Scotland on Friday the 31st of March and returned to Ireland on Wednesday the 5th of April. During our week over in Scotland, we enjoyed a packed schedule of harp workshops every day, and we attended two concerts and a ceilidh on campus. Each day, once the final workshop was finished, we carried our harps back to our accommodation and had the rest of the evening to ourselves. While we were in the city we did a tour of the Edinburgh Dungeons and went to the cinema to see the new Disney film 'Beauty and the Beast'.
All in all it was great experience not just for me, but for everyone who went. We had a great time with our friends, and of course with Rosa, Sinead and Siobhan, who were the best craic.
What does music mean to you?
Not only has playing the harp become such a big part in my life over the past five years, but music in general means something to me. I think that humans need music to express how we feel, to speak our minds, to prove a point. Music isn't just a word, it's a feeling. Music is beautiful, it's crazy, it's heartbreaking, it's joyful, and it makes you feel emotions. "Where words fail music speaks" - Hans Christian Andersen.
What music are you listening to at the moment?
At the moment I am listening to mainly pop music. Some of my favourites include:
Love Like This – Kodaline
Symphony – Clean Bandit & Zara Larsson
Superficial Love – Ruth B
Barcelona – Ed Sheeran
Hearts Don't Break Around Here – Ed Sheeran
Changeling – The Riptide Movement
My favourite musicians include; Ed Sheeran, Beyoncé, Ruth B, Gavin James, Kodaline and Emeli Sande.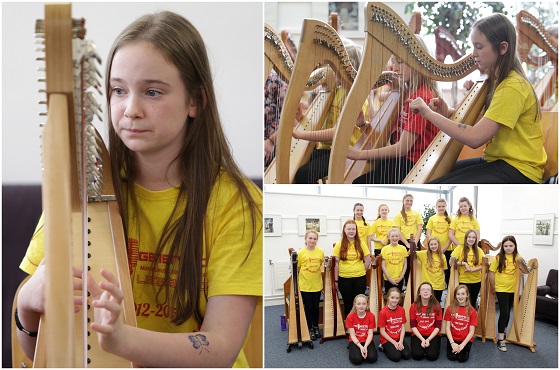 Would you like to be involved in music in the future?
Yes I would absolutely love to be involved in music in the future and for the rest of my life! In the future I would love to able to teach people harp, or perhaps a different instrument, who knows!
I would love to become even better at the harp, complete all grade exams and maybe even start learning a new instrument! But, for the time being, I'm okay with just harping it out ☺
What advice would you give to someone thinking about getting involved with Music Generation?
Like the way the Nike slogan goes, JUST DO IT!!!! If you're really interested in learning an instrument or getting singing lessons or something along those lines, definitely go for it. Before I got involved with Music Generation, never in a million years would I ever have even thought about starting to learn the harp. Now I couldn't imagine what my life would be like if I hadn't started those harp lessons in 3rd class.
If it wasn't for Music Generation I wouldn't be playing harp, I wouldn't have met the people I now call friends, and I wouldn't love music as much as I do. Look at it this way, it's a choice. It's your choice. And in my opinion it is one of the most brilliant choices I've ever made.
For more information about the harp programme and other initiatives at Music Generation Laois, contact:
Music Generation Laois, Laois County Council, Áras an Chontae, Portlaoise, County Laois
t
: +353 57 8664176
e
:
musicgenerationlaois@laoiscoco.ie
w
:
musicgenerationlaois.ie
About Music Generation Laois
Music Generation Laois is a performance music education programme which provides access to high quality performance music education at subsidised costs to children and young people in their own area. It is part of Music Generation, Ireland's national music education programme, and is co-funded by U2, The Ireland Funds, the Department of Education and Skills, Laois County Council (lead partner), Laois-Offaly ETB and Laois Partnership Company.