In 2015 Music Generation and
Nimbus School of Recording & Media
, Vancouver (BC), came together in partnership to provide a full one-year scholarship in music production to an aspiring young Irish music producer.
Following an
open national call
and a rigorous selection process among 75 applicants, 20-year old Ross Fahy from Tuam in County Galway was selected as the successful candidate. A year on, having completed the highly-respected 12-month Advanced Music Production Diploma with flying colours, Ross reflects on what the opportunity meant for him, and on how the experience at Nimbus will guide the next steps on his musical journey:
'My time spent at Nimbus was incredible, both for me as a person and for my career in the audio industry. My twelve months there were an intense roller-coaster ride exploring the bounds of music, sound and how to be. The lessons I learned there are applicable to sound and to life. Going to class was something I woke up looking forward to every day. The community spirit at Nimbus, coupled with the spectacular knowledge of my lecturers, was invigorating… Week by week I witnessed a positive difference in my work, and opened my mind to a new perspective on music.'
Ross met with Nimbus co-founders GGGarth Richardson and Bob Ezrin on his first day at the School, both of whom have produced music for world-renowned bands and artists. GGGarth has collaborated with Red Hot Chili Peppers, Rage Against The Machine and Biffy Clyro among others, while Bob has worked with groups including Pink Floyd, Alice Cooper and KISS.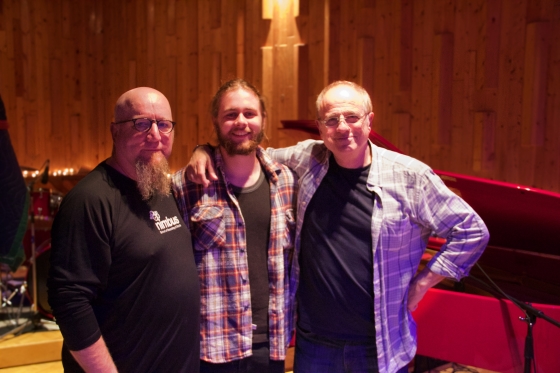 Pictured: Ross Fahy with GGGarth Richardson and Bob Ezrin, co-founders, Nimbus School of Recording & Media
Throughout the year Ross had the chance to work with musicians and mentors who, like Ezrin and Richardson, are committed to passing on to a new generation of media professionals the same training, skills and discipline that they have learned throughout their careers:
'All three of my lecturers combined their flair for art and teaching with a personable, professional, down-to-earth manner which inspired me to work harder than I ever have before… I learned about techniques I wouldn't have discovered if it weren't for Nimbus. These techniques helped me to refine my skills and cultivate new ones…'
Listen in to a cover of Jimi Hendrix's iconic track 'Purple Haze' mixed and recorded by Ross in just 12 hours as part of a time-limited Nimbus student project.
Ross also took time to collaborate and produce music with his peers and fellow musicians, including a series of tracks for Vancouver-based Dublin band,
The Orange Kyte
:
In his own words, Ross described how the year of living and studying abroad – working hard to complete tough assignments and gain a high-level qualification – was truly life-changing:
'This course brought a lot of value and meaning to my life. Nimbus didn't just make me a better audio engineer, it made me a better human being. I have lots of exciting opportunities thanks to the skills I learned there. I will continue to reference and grow from the course material and people I met for years to come. Most importantly, I learned how to add value to people's lives with my work.'
Music Generation and Nimbus School of Recording & Media: in partnership
In March 2015, Music Generation and Nimbus School of Recording & Media came together to announce a one-year scholarship opportunity (2015 – 2016) to study at the world-class school in Vancouver, Canada. The scholarship provided 12 months' free tuition for the successful candidate, plus accommodation and living costs on one of a range of cutting-edge music industry programmes.
The partnership between Music Generation and Nimbus was a natural one. Both are committed to transforming lives through access to inspiring, meaningful musical experiences, and U2 and Nimbus co-founder Bob Ezrin have been friends for many years. Ezrin and The Edge co-founded
Music Rising
to rescue the musical culture of the Central Gulf region of the United States by replacing the musical instruments lost in the destruction caused by the catastrophic hurricanes Katrina and Rita in 2005.
'Through access to the breadth of high-quality performance music education, to transform the lives of children and young people, enabling them to develop their creativity, reach their full potential, achieve self-growth and contribute to their personal development within a vibrant music community.'
- Mission Statement, Music Generation
'Nimbus exists to change lives through music. We are passionate about music, mentorship and community. We value excellence and character. We are committed to creating a sense of belonging regardless of race, gender, orientation or religion to our students, alumni, staff and the larger community. We provide hands-on transfer of knowledge and life-skills from current industry professionals.'
- Mission Statement, Nimbus School of Recording & Media
For further information about training opportunities available at Nimbus including programmes in audio engineering and music production, contact:
Nimbus School of Recording & Media
238 East 2nd Avenue, Vancouver, BC Canada, V5T 1B7
t: 604-875-8998
e:
info@nimbusrecording.com
nimbusrecording.com