Music Generation Limerick City hosted a one-day improvisation workshop with over 100 young musicians from Music Generation programmes in Limerick City, Limerick County, Cork City, Clare, Laois, and Waterford.

The event took place at the World Academy of Music and Dance at the University of Limerick in December 2022, ahead of Music Generation Limerick City's upcoming 10-year celebration in 2023.
The aim of the workshop was a collaboration based on three simple parameters - Listen, Connect, Adapt. Young musicians were encouraged to collaborate to create free, experimental, and meaningful music.  The participants, many meeting for the first time, came from backgrounds in a range of styles including traditional Irish, jazz, classical, folk, rock, pop, and hip-hop. The Musician Educators supported participants throughout the sessions, creating a safe space for improvisation for those that may be new to it.
The session's host, Music Development Officer at Music Generation Limerick City, Boris Hunka described the day event.
"This was a major breakthrough in a project that has been bubbling for a year or so now. We've been looking at ways to make spontaneous creativity accessible in a meaningful way. The plan was to use some very simple principles - listen; connect; adapt - to create genre blind improvisations with young people, many of whom had never improvised before. The truth is we didn't know if it would work in practice. It did – more so than we could have hoped."
The project's most unique output wasn't just the music and sounds that were made but the lasting musical connections between the participants:


'What was so special was all these young people - playing different styles of music, from different parts of the country, with very different stories and experiences – came together so quickly and fully - first as each other's audiences and then as collaborators. The connections and atmosphere they created touched everyone in the space.'
- Boris Hunka

We met some of the young musicians to chat about all things 'improv' and Music Generation.
Miriam has been part of the Music Generation Limerick Strings programme for as long as she can remember. She met her Musician Educator Diane aged 4 and never looked back! Miriam mainly plays classical music but has some trad influences from her parents.

Her favourite artist is Bruno Mars but she loves listening to classical music and Lyric FM. Her biggest takeaway from 'Listen, Connect, Adapt', has been the freedom it has given her to explore a space outside of classical music.
"I'm loving the improvising today. I think it's so good for people to just let go almost instead of focusing on notes, tuning, and staying in time with people. It's so good to let go and be free and it's so much easier to connect and it's so good for your playing. It's just so good. When you go back to classical it's so freeing, you know it's more about the feeling than the notes." Miriam, Young Musician, Music Generation Limerick City
Miriam has loved meeting so many musicians from around Ireland:
'It's really cool to see all the genres. Everyone is so talented and there's such a wide variety of genres. I've chatted to a band from Limerick and it's so cool to see like how much they rehearse and how they write songs together. I think seeing different people from different counties and different genres of music I wouldn't be exposed to is very cool.'
Young musicians Oscar (piano, bass, guitar), and Alex (saxophone, guitar), travelled from Music Generation Waterford to Limerick to take part. Oscar, has always played the piano and has been part of Music Generation programmes for over two years since he discovered the guitar and bass during the pandemic. Music is a big part of Oscar's life and notes some of his favourite genres include funk, rock and jazz however the biggest impact it has had in his life is the connections he has built.
"Music is a big part of my life. Before I even started with Music Gen, I had friends at school, but it's more, you're friends with them because you see them 5 days a week, you might not have much in common, but with Music Gen, it gave me a chance to find people I have stuff in common with and enjoy being around. I grew up in a musical household so using music as a vehicle to find friends and build relationships is the most important thing about music to me." Oscar, Young Musician, Music Generation Waterford
Alex, aged 17, has played saxophone with Music Generation Waterford for a number of years and picked up the Guitar throughout the pandemic to 'keep busy'. His favourite music is funk, rock and jazz and some occasional Bossanova! Music is what Alex wants to pursue at third level after his Leaving Cert year.
"Hopefully I'll go into a career in music so it's somewhat my life at this stage. I just love music, I love playing new instruments, I love listening to music, I love meeting new people who play different instruments and share different knowledge and I suppose just generally music for me is just everything." Alex, Young Musician, Music Generation Waterford
Both young musicians emphasised how new musical interactions and the sense of togetherness as their biggest takeaways from Listen, Connect, Adapt.

'I enjoyed the opportunity to play and improvise completely new music off the top of our heads. It's very interesting getting to interact with people from all over the country!' - Oscar

Coming up soon at Music Generation Limerick City - 'One Day in May'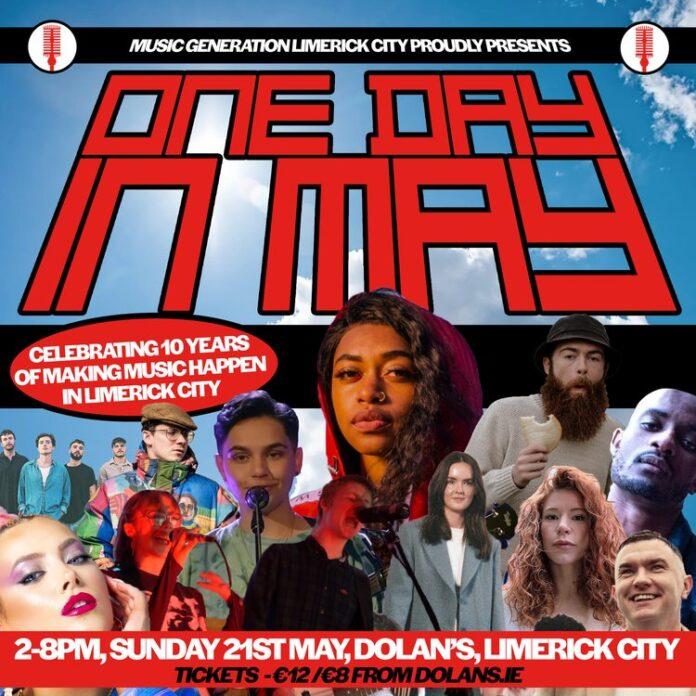 Music Generation Limerick City is managed by Limerick City Music Education Partnership, led by Limerick Education and Training Board in partnership with Limerick City Council, University of Limerick, Mary Immaculate College, Limerick Institute of Technology, Irish Chamber Orchestra, Limerick College of Further Education, Limerick School of Music, Learning Hub Limerick, Oscailt Network of DEIS Primary Schools, DEIS Post-Primary Schools, RTÉ lyric fm, Youth Services, Peter Dee Academy of Music and Redemptorist Music Centre.