On 23 and 24 August 2017 young Mayo musicians gathered at
Ballina Arts Centre
to take part in an electronic music production summer camp, hosted by
The Core
in partnership with
CreateSound.ie
.
Participants had an opportunity to learn about creating electronic music, programme their own beats and produce their own tracks, under the guidance of expert musician-mentors from CreateSound.ie and
Music Generation Mayo
.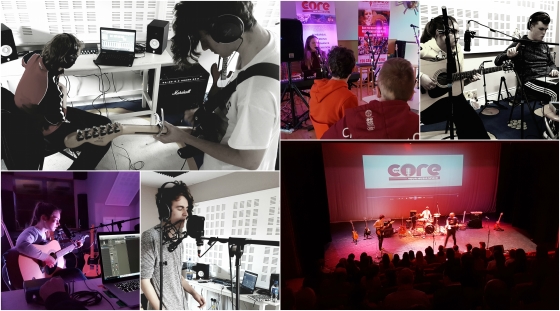 Their achievements in just two days were remarkable. Young musicians Simon and Vincent were among those who created an original work from scratch on the first day of camp! Hear their composition and reactions to the music in this short video –
Initiated by Music Generation Mayo, The Core is a creative space for young musicians housed within Ballina Arts Centre. At The Core, members are invited to express themselves, work on their music, and avail of rehearsal space with access to instruments and studio recording equipment. Open Mic nights are held on an ongoing basis, encouraging young musicians to hone their skills in performance or explore work in production and sound engineering.
Throughout the year The Core is a hive of musical activity and always welcomes new members to collaborate, learn and have fun with their peers and fellow musicians. Check out some of the music-making captured on camera in recent months…
For further information about The Core at Music Generation Mayo contact:
Philip Cassidy, The Core (c/o Music Generation Mayo)
Ballina Arts Centre, Barrett Street, Carrowcushlaun West, Ballina, Co Mayo
t
: 087 748 5954
e
:
PhilipCassidy@msletb.ie
thecoremayo.com