A musical mix of great summer camps will be available in Sligo this summer season:
Traditional Music – Repertoire Arrangement & Performance, 13-15 June, Ceolaras Coleman, Gurteen, 12-18 yr olds
Anything Goes: A Brief History of Popular Music, 1-4 July, The Hawk's Well Theatre, 7-17yr olds
Sligo School of Rock, 8-12 July, Grange Post Primary School, Grange, 7-17 yr olds
The Art of The Band, 15-19 july, The Crib, Rockwood Parade, Sligo, 13-18 yr olds
Sligo School of Rock, 22-26 July, Tubbercurry Family Resource Centre, Tubbercurry, 7-17 yr olds
Music As It Should Be, 29 July-2 August, Ballinode College, Ballinode, 13-18 yr olds
Full details from Music Generation Sligo, telephone: 071-9138306; Email:
rmcgrath@sligovec.ie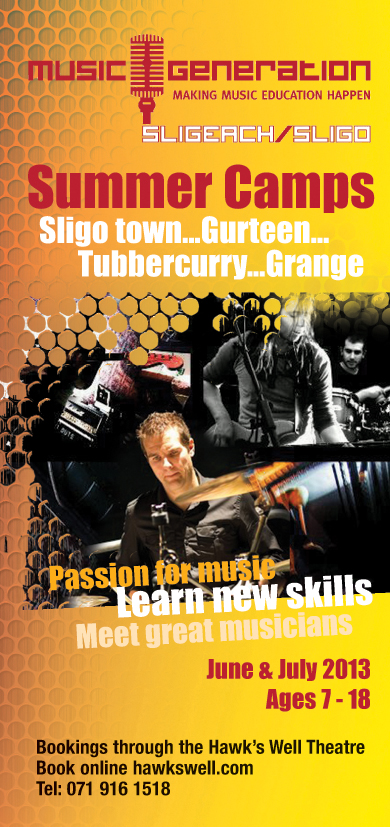 Brian Irvine leads the Composition and Performance Programme 2012-2013 for Music Generation Sligo in association with Sligo County Council Public Art Programme.
Belfast-born Brian Irvine has been appointed as Composer in Residence for Music Generation Sligo Performance Programme 2012-2013. The composer, who has collaborated with everyone from Seamus Heaney to Snow Patrol and was associate composer with the Ulster Orchestra for four years, will play an integral role in the Performance Programme.
The Performance Programme 2012-2013 comprises of a number of core elements:
Composition Commission: MGS has commissioned Brian Irvine to compose a new composition for choir and orchestra, to be performed by children and young people in Sligo. Brian Irvine will also lead the team as Artistic Director. Niamh Crowley, (Director of SAM, member of MGS steering committee and musician) is the Creative Co-ordinator of the programme in 2012-2013.
Young Composer Mentoring Programme is providing a select group of six young local composers (aged 12+) with the opportunity to participate in a series of workshops about the process and art of composition, and working as a professional composer. Each composer will write a composition of approx five minutes in duration. The young composers will participate, alongside Brian Irvine, in some of the workshops with the performers during the year.
Performance Groups: MGS will arrange workshops, led by Brian Irvine, to establish a choral group to join Sligo Academy of Music Senior Orchestra for the performance of the new compositions. The objective is to introduce the idea of composition, improvisation, music technology, creating and performing music.
Performance: MGS will stage a performance to premiere the new composition by Brian Irvine and Sligo's young composers by a Youth Choir & Orchestra at The Hawk's Well Theatre, Sligo on November 10th during the Sligo International Choral Festival 2013.
The Music Generation Sligo Composition Programme is commissioned by Sligo County Council and funded by the Department of Environment, Heritage and Gaeltacht Per Cent for Art Scheme.