Name
: Pierce Joyce
Age
: 19
From
: Borris, Co Carlow
Instrument
: Piano and composition
I play the piano, but I'm primarily a composer. I first got involved with Music Generation when I auditioned with
Music Generation Carlow
in 2014, both for the Young Musicians' Club and the Young Composers' Club. At the time I was only a self-taught pianist and had never written a musical note, and I hoped to get into the Musicians' Club to be able to afford quality lessons and become a better pianist. Instead, I was accepted to the Composers' Club based on an interview and my interest in writing grew immensely once I joined Music Generation.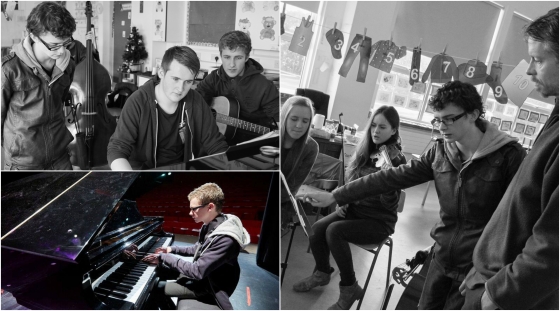 The Composers' Club in Carlow was great because it allowed me to hear a variety of instruments up close, both as solo instruments and also how they blend together. We had this opportunity as the composers worked in tandem with the musicians during the whole process. In the first year we had the opportunity to write for common classical instruments like piano and strings, but also alongside more obscure instruments like the electric guitar and the Uilleann Pipes. I applied for the Composers' Club again the following year and we were given a brass quartet to work with, further developing my knowledge of the orchestra.
At the moment I've been both playing (on piano) and studying the music that Justin Hurwitz composed for the film 'La La Land'. I was so impressed with his melodies and the way he took jazz writing and orchestrated it in a classical way. On top of that I'm constantly trying to work my way through all of the great names in classical music. I've also grown up amid a lot of film music and folk music and they remain a big part of my musical interests and inspirations.
Not being classically trained makes it harder to secure a regular performance spot, though I have had the opportunity now and then. With Music Generation Carlow we had a concert at the end of the academic year that showcased the Composers' music, performed by the Young Musicians, which was a fantastic experience. One of my biggest aims is to keep growing as a performing musician as I feel it's still very important for a composer.
In September I'll be starting a Composition degree at
The Royal Welsh College of Music and Drama
in Cardiff. I'm incredibly excited to be continuing my studies and hope I can continue to grow as a composer as a result.
Aside from my studies I've started up a
Facebook page
alongside a
SoundCloud page
where I regularly post pieces that I write at the piano. I hope to grow this over the next few years so that I have a platform to build on once I complete my degree.
If asked what music means to me, I would simply say happiness. Getting involved in Music Generation can be a fantastic way to surround yourself in music and give you a taste of what a career in music could look like.
For more information about the programmes and initiatives at Music Generation Carlow contact:
Paula Phelan, Programme Director
Music Generation Carlow, Kilkenny and Carlow Education and Training Board, Athy Road, Carlow
T: 059 9138583
E:
pphelan@kcetb.ie
musicgenerationcarlow.ie