Music Generation Cork City presents
MayHum 2017
, a unique festival of music-making and music education in Cork. Now in its second year, MayHum 2017 will run from 8 – 30 May, with all events free to attend and open to the public.
Presented in partnership with community-based music education providers and in conjunction with local venues and businesses, MayHum 2017 will feature a wide range of events including urban street performances, brass bands, local community concerts and music workshops. Some of this year's highlights including a fun day of musical 'mayhum' in the City Centre as part of Feel Good Friday on 26 May, a rap and beats parade with GMC Beats, workshops on the Cork Community Gamelan, and more…
Key dates include:
8 – 25 May: Weekly Rap and Beats workshops with GMC Beats (The Kabin, Knocknaheeny)
22 & 23 May: Samba Drumming workshops for teenagers (St Joseph's Youth Centre)
23 – 20 May: Gamelan workshops for beginners and improvers (St Peter's, North Main Street)
24 May: Music Mash-Up Concert (Mayfield Library)
25 May: Concert and Open-Mic with GMC Beats (The Kabin, Knocknaheeny)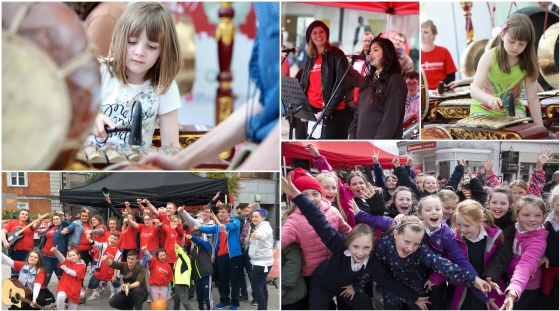 Feel Good Friday
On Friday, 26 May Cork City will come alive with the sound of music as children, young people and adults of all ages are invited to join in the 'mayhum'! From 11am – 8pm the MayHum Stage outside
Electric Bar and Restaurant
, South Mall (memorial park) will feature performances by young musicians from a range of programmes in partnership with Music Generation Cork City. There will also be a Rap and Beats Parade with GMC Beats, where young local rappers and musicians will 'rap-a-mile' of cypher performances, starting and finishing at Electric.
Feel Good Friday is an initiative of Cork Business Association and Cork City Council.
With an ethos of inclusion, education, participation and innovation, the MayHum festival programme for 2017 has something for everyone!
Read the full programme and find out more about how you can get involved online, or by contacting Music Generation Cork City:
Music Generation Cork City
Cork Education & Training Board, 21 Lavitt's Quay, Cork
e
:
musicgencorkcity@corketb.ie
t
: +353 21 4970 185/6
Facebook.com/MusicGenerationCorkCity