100+ young brass and wind musicians and 15 leading professionals from Carlow, Cork City and Mayo came together to create a cross-county big band at the first ever Brass Off event in Cork City earlier this week.
Brass Off was a Music Generation National Partnership Project, developed in collaboration between Music Generation Cork City, Music Generation Carlow and Music Generation Mayo.
This major musical jamboree took place over three days from Monday 10 to Wednesday 12 April at CIT – Cork School of Music. The initiative offered young musicians an opportunity to explore technique and develop their skills under the guidance of 15 musician-tutors from the three counties.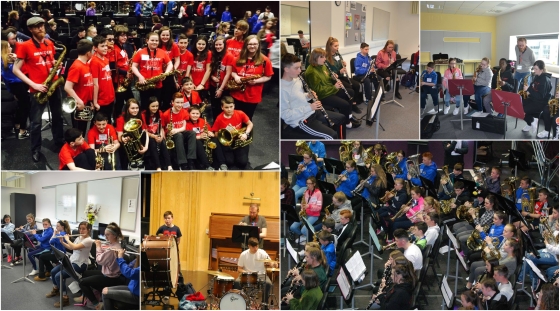 The young musicians, ranging in age from 9 to 17, had each been rehearsing a selected repertoire in their local areas in advance of this national brass and wind gathering. The event in Cork City presented a chance to rehearse and workshop the repertoire in small and whole ensemble sessions, rounding off the three days at a grand finale public showcase concert on Wednesday afternoon.
And what does a Music Generation big band sound like? Take a look at a snippet of the closing concert in this brilliant video of the full ensemble performance of 'Superheroes R Us'!
The ensemble from Cork City includes members of the Barrack Street Band and Cork Academy of Music. Their group was led by Shauna McCullough of Cork City's Barrack Street Band. Those from Carlow are students at Carlow Vocational School and Carlow College of Music, and work on a weekly basis with tutor Gavin Barr. The Mayo group included young members of Foxford Brass and Reed Band, and were accompanied at Brass Off by their tutor, musician Laurie Barrett. The 15-strong musician team was led jointly by Shauna, Gavin and Laurie.
Listen back to Shauna explaining a little more about what was involved in this major project on Red FM:
For more information about this and other programmes at Music Generation contact:
Music Generation National Development Office
National Concert Hall Building, Earlsfort Terrace, Dublin 2.
e
:
info@musicgeneration.ie
t
: +353 1 475 8454
musicgeneration.ie