A unique international performance opportunity in July 2016 created a platform for Music Generation Young Ambassadors from Sligo and Donegal to demonstrate first-hand the breadth and quality of youth music-making happening in Ireland.
The project
In July 2016 Music Generation presented the outcomes of a ground-breaking research partnership at the 32nd Annual
International Society of Music Education
(ISME) Conference in Glasgow. As part of its presentation, an ensemble of Young Ambassadors for Music Generation was invited to perform for a global audience of musicians and educators at the National Piping Centre on Tuesday 26 July.
The ensemble was made up of 14 young musicians ages 14 to 19 from
Music Generation Sligo
and
Donegal Music Education Partnership
who had each previously participated in programmes run through Music Generation in their locality. The members of the group all play one or more instruments across several musical genres and styles, including voice, and were brought together especially for this occasion under the direction of Sarah Murphy and musicians Feargus Murphy and Seamus Devveny of
Wall2Wall Music
(Derry).
The young musicians who took part in the project were: Alice Purcell, Dúlra Hanley, Síofra Hanley, Liam Needham and Tom Gavin (Music Generation Sligo), Lughan Devenney, Cale O'Donnell, Danny McGilvray, Elliot Murphy, Amy Meehan, Catherine Gallagher, Evan McGinty, Laura Kealy, Jennifer Kilcoyne and Oisín Rafferty (Donegal Music Education Partnership).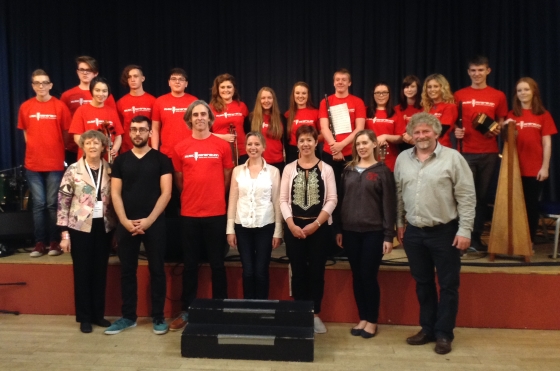 The process
Music Generation Sligo and Donegal Music Education Partnership were asked to develop a 30-minute performance in collaboration with Wall2Wall Music that would incorporate original composition and improvisation, fusing the genres of rock, pop and traditional Irish music.
"It's really cool – you do trad and classical and jazz, a mix of everything."
(Young Musician)
Music Generation values all genres and styles of music-making and encourages diverse practices and approaches to vocal and instrumental tuition. Our aim for the performance at ISME was to reflect this principle of diversity. We sought to enable dynamic, innovative, creative and meaningful music-making experiences between the ensemble and the musician team at Wall2Wall.
Over six weeks the Young Ambassadors, facilitated by Sarah Murphy and her team, worked together to write, rehearse and master the repertoire.
"It's very unique because you get to learn so many different skills, you get to perform with other musicians, you get to perform at big venues, you get to perform for family and friends, which gives you confidence, and you get to make friends."
(Young Musician)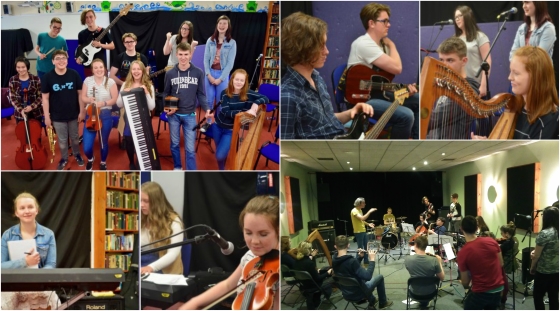 The music
The set included a track by the young Donegal musicians, 'Time Travel', which was written and recorded by the band Broken Heavens, founded as part of the Soundwaves project in 2015 (funded under the
Music Generation/Arts Council Partnership
), as well as 'The Three Wishes', an original composition by the young musicians at Music Generation Sligo.
"This was a very rewarding and enjoyable experience for me and I'm proud to have represented Ireland along with the others in my group. I made new friends and we all had loads of fun rehearsing and performing at the Piping Centre in Glasgow… I found this trip and the rehearsals so educational and I have learned lots from it."
(Young Musician)
In addition, the group created two brand new pieces – 'Synerjig' and 'Generation Music' – which were premiered at the ISME event. Listen to both tracks online at
SoundCloud
:
The outcomes
For the young musicians, this experience was an opportunity to present their own work to a packed house of conference delegates, musicians and educators from around the world. It was a challenging project which asked much of the ensemble – to work across genres of music, experiment with new sounds and techniques, improvise, write and compose work collaboratively with new peers, all within a very limited time frame.
"I'm really excited to represent Music Generation in Glasgow… and to have had the chance to perform our own composition 'The Three Wishes' and to collaborate with the group from Donegal to create brand new music together. We've been working really hard on a dynamic, energetic set and we can't wait to perform it for the audience."
(Young Musician)
Key to the success of the project was the engagement between skilled professional musicians, children and young people in a meaningful music-making experience, which had diversity and flexibility at its core. The process enabled the young musicians to draw on their unique musical backgrounds and traditions, while working together as an ensemble towards an overarching vision developed in collaboration with a strong musician team. The Young Ambassadors were empowered to create and compose their own music which had personal and social meaning for them. This authenticity and integrity was recognised and acknowledged in the overwhelmingly positive reception by delegates and guests at the final performance in Glasgow.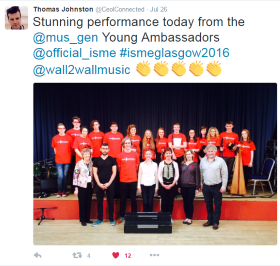 For further information on this and other projects, partnerships and programmes contact:
Music Generation National Development Office:
t: +353 1 475 8454
e:
info@musicgeneration.ie
Music Generation Sligo:
t: +353 71 913 8306
e:
musicgenerationsligo@msletb.ie
Donegal Music Education Partnership:
t: +353 74 917 6293
e:
martinmcginley@donegaletb.ie
Wall2Wall Music:
t: +44 78 1110 7065
e:
wall2wallmusic@gmail.com